device on which it's running, and automatically load the appropriate UI. PC users will get a desktop, which will come complete with a revamped Start menu, and is rumored to sport a somewhat flatter, more modern aesthetic. The tiled Start screen will be disabled by default, though users will be able to run Modern apps in floating windows on the desktop, just like they can with legacy apps. Tablet and smartphones users, on the other hand, will get a new version of the Start screen, but not a desktop. Hybrid devices, such as the Surface, will switch between UIs based on whether they're attached to accessories, such as a docking station or keyboard. "One Windows" is more about below-the-hood unification than a single interaction model that spans all devices.
Nadella's plan to unify engineering extends to the company's evolving hardware agenda. Under former CEO Steve Ballmer, "devices" played a headline role in the company's strategy, prompting many critics to blast Microsoft's putative "Apple envy." Leading up to this week's earnings call, Nadella distanced himself from this stance, stating that devices have a role within the company, but must serve his overarching "mobile-first, cloud-first" rubric.
"Mobility for us goes beyond just devices," he said during Tuesday's earnings call. "While we're certainly focused on building great phones and tablets, we think of mobility more expansively."
This more expansive definition includes cross-platform cloud services, as well as management tools for not only Windows devices, but also iOS and Android products. To Nadella, "mobile" means moving digital experiences with the user, and presenting them in the context that fits the device and moment. This "mobility" also includes the IT professionals who must oversee mobile devices and the data they carry, but who must also respect user privacy. All of this "mobile" utility is enabled via the cloud, hence Nadella's "mobile-first, cloud-first" focus.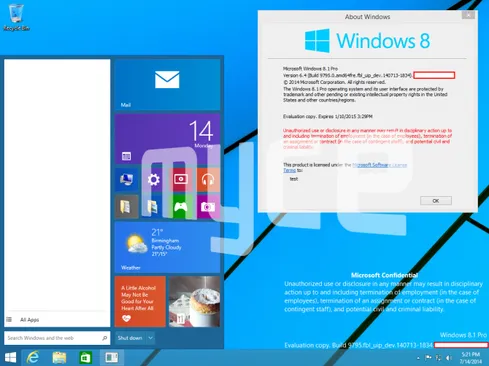 If you didn't notice, this wide definition of "mobile" doesn't particularly demand that Microsoft make a lot of devices. CFO Amy Hood alluded to this during the earnings call, stating that the company is working to "right-size" the Nokia acquisition. Stephen Elop, the former Nokia CEO who now oversees Microsoft's device efforts, used the same language in the letter he sent employees to announce the layoffs. Some investors still question whether Microsoft needs to make its own hardware, and in the last few weeks, company execs have clearly stressed that though device efforts will continue, they'll operate in a more modest context.
"We're not in hardware for hardware's sake," Nadella said during the earnings call. "Going forward, all devices will be created with the explicit purpose to light up our digital work and life experiences."
What does this mean? "At times we'll develop new categories like we did with Surface," said Nadella. "And we will responsibly make the market for Windows Phone."
Nadella's implication that the Surface is a success might seem like a stretch, but in a way, he has a point. A few years ago, few Windows OEMs produced devices that could compete aesthetically with Apple's catalogue. Thanks to Microsoft's prodding and Intel's upcoming Broadwell chips, the next round of premium Windows devices will be as sleek, light and stylish as many of the products currently coming out of Cupertino.
It remains to be seen how next-gen Windows software and hardware actually deliver, of course, but the point remains: With the Surface line, and particularly the Surface Pro 3, Microsoft encouraged its partners to raise the bar.
Still, manufacturing partners' investment in Windows brings up the trickiness of the Nokia situation. Late in Ballmer's tenure, Microsoft's relationship with OEMs often appeared strained. Execs from many partners publicly criticized Windows 8 and Windows Phone 8. Today, in contrast, Microsoft and device manufacturers appear largely on the same page. This raises a question: If OEM relations are better, why doesn't Microsoft leave the costly task of manufacturing smartphones to its partners?
There are several reasons. For one thing, Nokia accounts for an inordinate number of Windows Phone devices sold, so even if other manufacturers are willing to play, Microsoft needed someone to do heavy lifting. Windows and Windows Phone still have to compete with Android and Chrome OS for its partners' loyalty, after all.
But more importantly, at least according to Nadella, Microsoft needs devices that showcase what its cloud services can do. If Microsoft-made Lumias can truly "light up" the user experience, the company will gain not only more Windows Phone users, but also attract more cross-platform attention.
What does it mean to "light up"? Nadella offered several examples. "We believe productivity experiences will go beyond individual applications to deliver ambient intelligence that spans applications," he said at one point, noting that thanks to Cortana, Windows Phone 8.1 is uniquely positioned to demonstrate this idea.
He also noted that the Surface Pro 3's lauded digital note-taking experience required that "developers [pull] together one vision to write code that resides in the firmware in the Surface Pro 3's pen ... the Windows shell, and in OneNote."
"This is not about just Word or Excel on your phone," Nadella summarized. "It is about thinking about Cortana, and Office Lens, and those kinds of scenarios in compelling ways."
What about Xbox? Microsoft initially positioned the Xbox One as a portal to all media. Since then, Sony's PlayStation 4 has posted better sales, albeit with wider availability, and Microsoft has scaled back its efforts to focus more on gaming.
"It's important for us to have a core that is thriving. It's equally important to place smart, bold bets in other areas where we have the ability to add value and have impact," Nadella said Tuesday. "That's what we're doing with Xbox."
Ultimately, Microsoft's Windows and device strategies are still in flux, and still lack the definition and direction of the company's rapidly-growing cloud efforts. But after being handed Ballmer's grander intentions for first-party devices, Nadella is moving toward a more sensible software-hardware balance. That's a good first step -- but Microsoft will face more challenges in coming months, when buyers decide whether next-gen Windows devices are actually more appealing than the ones they've spent the last year mostly ignoring.
IBM, Microsoft, Oracle, and SAP are fighting to become your in-memory technology provider. Do you really need the speed? Get the digital In-Memory Databases issue of InformationWeek today.