Apple and Google put forth their best efforts this fall with the iPhone 6 Plus and Nexus 6. These oversized handsets are chock full of features that consumers and mobile professionals alike will enjoy. After spending a month using each phone, I found clear differences in both hardware and software that are worth pointing out. Let's take a deep dive into what sets these two behemoths apart.
The iPhone 6 Plus and Nexus 6 are both large smartphones. The Nexus 6 is slightly wider, but the two are otherwise comparable in terms of height and thickness. Due to their size, they often require both hands to operate comfortably. Apple and Motorola (which made the Nexus 6 for Google) did a great job with materials and the quality of manufacturing. Winner: Tie
The Nexus 6 has a bigger, more pixel-rich screen. While the 6 Plus's screen looks fantastic, the Nexus 6's display is sharper and more colorful. Apple's screen is somewhat brighter. Winner: Nexus 6, by an eyelash.
[Meanwhile, the pressure's on at Samsung. Read Samsung Galaxy S5 Sales Tank, CEO In Glare.]
The 6 Plus has an 8-megapixel camera with optical image stabilization, while the Nexus 6 has a 13-megapixel camera with a dual-LED flash. Despite its higher pixel count, the camera on the Nexus 6 doesn't compete well with that of other flagship devices. The iPhone 6 Plus's camera, on the other hand, is one of the best available, boasting incredible clarity and exposure capabilities. Winner: iPhone 6 Plus by a wide margin.
Storage is an interesting story. The iPhone 6 Plus comes in 16-GB, 64-GB, and 128-GB models, while the Nexus 6 comes with either 32 or 64 GB. Google charges $649 for the 32-GB Nexus 6, which is the same price Apple charges for the 16-GB iPhone 6 Plus. Google wants $699 for the 64-GB model, and Apple wants $749 for the 64-GB model. Neither device supports expandable storage, though cloud storage is available to both. Winner: Tie.
Battery life has come a long way. Despite their monstrous screens, both the iPhone 6 Plus and Nexus 6 manage to deliver a full day of usable battery life. That means I was able to consistently use each phone from 8:00 a.m. to midnight with no trouble. That said, the 6 Plus tends to last several hours longer than the Nexus 6, which could make all the difference in the world when you're nowhere near a charger. Winner: iPhone 6 Plus.
Android 5.0 Lollipop and iOS 8 are similar, yet vastly different. Each includes a core set of apps, such as messaging, email, media, productivity, video, and more. Users can manage notifications, reach controls quickly, and manage their apps with various tools. In my experience over the past two months, iOS 8 is much more stable than Android 5.0 Lollipop, though Apple has pushed out several updates to its mobile platform since it was released in late September. Google hasn't yet delivered an initial stability/bug fix update to the Nexus 6.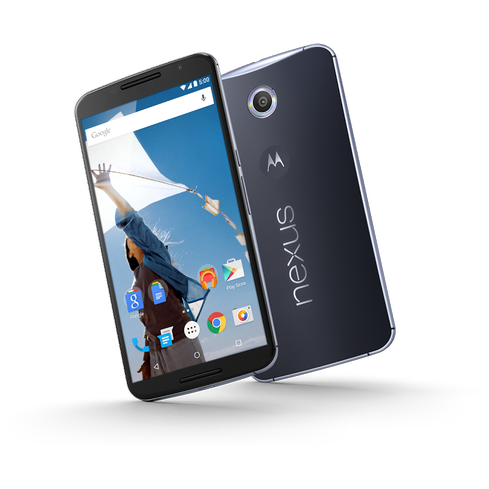 Android is much more flexible than iOS 8, though, and it offers a much greater degree of customization. Lollipop has a punchy new design that's attractive and modern -- more so than iOS 8. Further, Android integrates with Google's online services seamlessly in a way Apple has yet to be able to replicate with iOS and iCloud. Winner: Nexus 6.
Productivity is essential for mobile professionals. Android and iOS both offer productivity suites that work on their devices as well as online. Creating and editing documents on smartphones is a clunky process no matter which of these platforms you pick, but I think Google and the Nexus 6 have at least a small advantage.
Google Drive, its tool for managing cloud-based documents, works really well both online and on the device. Users must download separate apps to actually interact with those documents, but these apps are light on their feet and don't take up too much room on the Nexus 6. For example, Docs (for editing Google Drive documents) is about 90 MB. In contrast, Pages (for editing documents on iPhones/iPads) weighs in at 346 MB -- that's nearly four times larger, just for the app itself, not to mention the files. It's only fair to point out that Google Drive is available to the iPhone 6 Plus too, but it works more seamlessly on the Nexus 6. Winner: Nexus 6.
If you have to pick one big phone this year, you can't go wrong with either the Apple iPhone 6 Plus or the Google Nexus 6. Each does at least a few things better than its rival, but the choice should ultimately come down to your preference of platform: Are you an Apple person or a Google person?
Apply now for the 2015 InformationWeek Elite 100, which recognizes the most innovative users of technology to advance a company's business goals. Winners will be recognized at the InformationWeek Conference, April 27-28, 2015, at the Mandalay Bay in Las Vegas. Application period ends Jan. 16, 2015.