For the National Football League, information technology has become an integral part of the sports experience. It's not simple back office support. It's a frame for the game, both on and off the field.
"Information technology is interwoven into all parts of our business," said NFL CIO Michelle McKenna-Doyle in a phone interview.
Super Bowl 50, recently concluded in Santa Clara, Calif., relied upon a variety of technology products, from Microsoft Surface tablets for team managers to Zebra tags for tracking players on the field. The game went well from an operations perspective, thanks largely to the robust wireless networking infrastructure at Levi's Stadium.
"We always are learning, so I never would claim perfection, but it was as close to perfection as we've had," McKenna-Doyle said.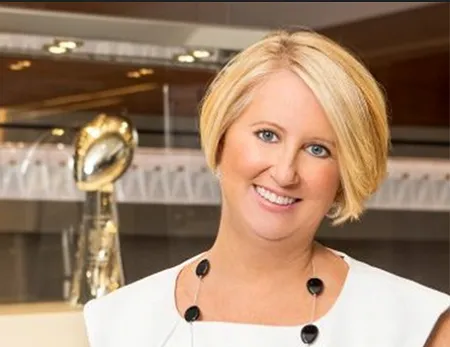 Stadium connectivity has been a priority for her since she became CIO for the NFL in 2012. She said the NFL has worked hard to establish minimum networking standards, to educate the franchises, and to help them make the necessary changes. There are only a few stadiums left that fall short in terms of wireless networking. One of these, Houston's NRG Stadium, is currently being dealt with so that it can host Super Bowl 51 in 2017.
Part of the success of Super Bowl 50 can be attributed to the Federal Communications Commission, which deployed a team of field agents to protect network communications during the game. The agency points to the absence of spectrum-interference or network downtime as evidence of the efficacy of new technical capabilities made possible by last year's Field Modernization Order.
Extreme Networks, the NFL's WiFi analytics partner, also played a major role in maintaining trouble-free wireless connectivity for the more than 72,000 football fans and game personnel present at this year's Super Bowl. The network itself is based on Aruba WiFi access points and BLE beacons.
"It is a nightmare," said McKenna-Doyle, noting that it's difficult for wireless signals to travel through water (represented by the people in the stadium), concrete, and steel. "You can get it right for one event, but it's hard to repeat. We do create a really hard problem for our network providers."
As an example, she said that something as simple as moving a food cart with a microwave oven can create wireless signal problems.
Network usage at Super Bowl 50 looks a bit different from what it did in previous years. During the previous two Super Bowls, social networking apps, largely Facebook, were the most frequently used app at games. This year, cloud storage apps took first place, because people were uploading lots of pictures, she said.
"With the rise of Instagram and other social media apps, being able to create your own content and publish it is something that fans really want to do," she said. "So that has us thinking about the mobile apps that we produce, to use the apps to augment that experience."
[Read SAP Uses Super Bowl 50 to Test Data Visualization, UX.]
It was a focus on the customer experience that sidelined the ability to order food from stadium seats, something normally available to Levi's Stadium patrons. While beverage ordering via app was maintained, food ordering was not allowed because there was concern that the staff could not fulfill the expected number of orders. Given the challenges faced delivering beverage orders, which staff had difficulty fulfilling, she said it was the right decision.
McKenna-Doyle recommends keeping experience at the forefront when evaluating technology. "If you can't operationally pull off what a technology promises then don't do it."
[Editor's note: This article was updated to reflect the fact that Extreme Networks was responsible for WiFi management/analytics for the NFL, and not the WiFi hardware.]
Are you an IT Hero? Do you know someone who is? Submit your entry now for InformationWeek's IT Hero Award. Full details and a submission form can be found here.