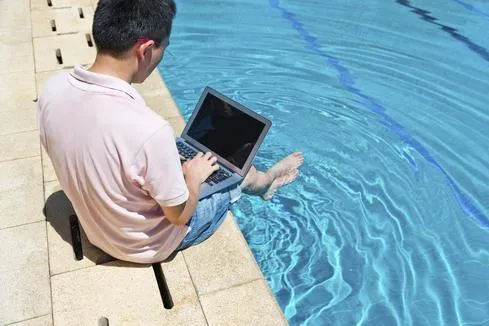 Apple Watch, Sony Xperia Z3 And Other Hot Summer Gadgets
(Click image for larger view and slideshow.)
A research team from the University of Washington (UW) is developing technology that would allow devices, including phones and other gadgets, to be charged using WiFi signals that are typically used for communication purposes.
The technology, which the team calls "power over Wi-Fi" or PoWiFi, would allow low-power electronics to be charged wirelessly at a distance of up to 28 feet.
Building on the team of researchers' original design prototype, battery-free temperature and camera sensors were powered using WiFi chipsets with ranges of 17 and 20 feet.
At a high level, a router running PoWiFi imitates a continuous transmission while minimizing the impact on WiFi performance by injecting small amounts of surplus broadcast traffic on multiple WiFi channels.
The team also designed a multichannel harvester that efficiently draws power across multiple WiFi channel. Because the harvester cannot distinguish between transmissions across channels, it simply recognizes a continuous transmission from the router and can in this way harvest power efficiently.
"The key observation we make is that our harvesting hardware does not decode WiFi signals. As a result, from its perspective, all router transmissions look identical," the research team explained in the report, which the group published in May. "Thus, it can harvest similar amounts of power from the artificial packets as well as traffic to the Wi-Fi clients and beacon transmissions. We leverage this property to design a system that balances client traffic and additional power traffic."
The announcement comes as the market for Web-enabled devices of all sizes and kinds -- the Internet of Things (IoT) -- grows ever larger.
A key issue is how to power these devices as they become smaller and more numerous, since plugging them in to provide power is inconvenient and is difficult at large scale.
A February 2014 report from IT research firm IDC projected the worldwide IoT market would grow from $655.8 billion in 2014 to $1.7 trillion in 2020, with a compound annual growth rate (CAGR) of 16.9%.
"We have a huge WiFi infrastructure already in place," Vamsi Tall, a researcher who worked on the project, told Popular Science. "If we can repurpose existing infrastructure for power delivery as well, then we can actually enable wireless power delivery in homes and offices."
[Read about Google Chrome is trying to save battery life.]
To further demonstrate the technology's potential, the team deployed the system in multiple homes in a metropolitan area to demonstrate that PoWiFi can successfully deliver power through WiFi with real-world WiFi network conditions.
The research paper noted PoWiFi's power-delivery efficiency depends on the traffic patterns of other WiFi networks in the vicinity as well as the router's own client traffic, both of which can be unpredictable.
"If we wanted to just blast as much power as we possibly can, that would kill your WiFi, because you'd have power on the channel all the time," Bryce Kellogg, a researcher on the project, told Wired. "We optimized the router so that we can deliver what seems like, to the sensor, constant power without impacting your WiFi too much."