Research In Motion will provide a new hardware reference platform, called Dev Alpha B, to developers attending
BlackBerry Jam
, the company's developer conference taking place this week at the San Jose Convention Center. This device supersedes Dev Alpha A, provided earlier this year at BlackBerry World, and it is running the latest version of BlackBerry 10, the QNX-based mobile OS do-over. A final version of BB 10 is still not expected until early 2013.
RIM gave us an early look at the new hardware, but not many details. Dev Alpha B is just a reference hardware platform, Michael Clewley, RIM's director of handheld software product management, emphasized. And yet RIM is the only company making BlackBerry hardware, so it's difficult not to want to project the reference platform onto future devices. It's big--at least as big as the 4.2 inches the Dev Alpha A was said to be, very square, and its display was impressively bright (the Dev Alpha A reportedly had a high-resolution display, with a pixel density to rival or beat the iPhone 4S, a dual core processor, 1 GB of internal memory, and microSD, microUSB, and microHDMI hardware interfaces). RIM did not reveal hardware spec details despite our requests.
If it's nothing like what a new BlackBerry phone might look like, it was perhaps just another chance for RIM to say: "See, we're making progress."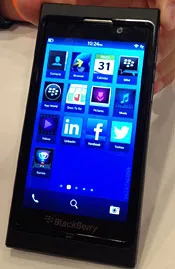 A look at the home screen.
RIM also continued showing off some of the magic of BlackBerry 10, which RIM is counting on to rescue the company from obsolescence, irrelevance, or just simply diminishment, take your pick. And by putting even more hardware in the hands of developers--the company claims the Dev Alpha A went to some 5,000 developers--RIM hopes that this lengthy wait BlackBerry fans have been forced to endure will have been worthwhile, thanks to what RIM predicted will be the healthiest app store of any new mobile OS launch.
BlackBerry 10 is certainly a more modern mobile operating system, built from the ground up to be a touch-screen experience, whereas touch felt like an afterthought in previous BlackBerry operating systems. RIM seems to be betting on a few key nuances for success: a user experience the company calls "flow," a focus on the enterprise, and building on the foundational element of communication.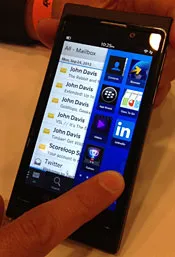 Go with the Flow.
"Flow" promises to get end-users beyond hunting for and launching apps, and attempts to create seamless transitions between screens, apps, and messaging (or, more broadly, communication). Like with the BlackBerry Playbook, it's fairly simple to task-switch between running apps: Using what RIM calls an "active app grid," just a quick swipe up from the bottom of the device and you've got a screen of your running apps. Those apps are, essentially "live" or active.
The user experience does feels like one organized stack of cards: Peek underneath an app, and you can see your notifications--and it's really a peek, rather than a whole new screen, as if you're peeling back a page to see what's underneath. Peek from an app (slowly swiping to the right) and you're at your universal inbox.
It's difficult to know how far RIM will take this, but it seems like a creative way to maneuver through functions on a smartphone. Time will tell whether it's just a neat new idea, or truly useful way to navigate. Clewley said developers would have access to these flow experiences.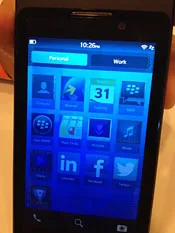 Balance work and life.
RIM has also embedded the concept of BlackBerry Balance into BlackBerry 10's core OS experience. Balance provides the ability to separate personal applications and data from those for work. Right from the BlackBerry 10 home screen, using a pull-down from the top of the screen, you can see which mode you're in, and quickly switch between modes. Apps that are designated as corporate, or work-related apps, pushed by admins from the BlackBerry Enterprise Server (BES), have a miniature briefcase icon for clear indication. Administrators can prevent copy/paste between those two sides. Finally, Clewley talked about BlackBerry 10 being a "communication experience," and how it's about transitioning from an "I" experience to a "we" experience. Rhetoric aside, RIM is betting that BlackBerry 10 is all about how we interact and share. For instance, BlackBerry 10 plays well with social networks: Facebook, Twitter, and LinkedIn are deeply integrated into the messaging experience, along with email, voice communication, and BBM. RIM is calling this universal, integrated messaging experience "BlackBerry Hub," perhaps borrowing a page (or a name) from Microsoft Windows Phone. It will be interesting to hear what Microsoft has to say about this.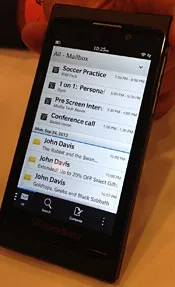 A Hub for communications.
From within this hub, you get what Clewley called a 360-degree experience. For example, if you pull down from the top of the inbox, you can suddenly see upcoming calendar appointments. And if you click on the people tab from the calendar, it shows who was invited, messages associated with the appointment, and so on. This contextual approach is similar to what we've seen on the BlackBerry Playbook, but at a surface glance it seems even more tightly integrated into the user experience. Or, as Clewley stressed, users don't have to exit one task to access the next logical one.
It's a compelling approach, but time will tell if it's a game-changer. There is plenty in BlackBerry 10 that could be considered table stakes--necessary for the modernization of the BlackBerry experience, but old hat by now.
For example, RIM demonstrated a retooled BlackBerry App World, complete with music and video content, and talked about social games, courtesy of its acquisition of ScoreLoop. The camera app has the ability to time-shift (finding the perfect picture from essentially a few seconds of video capture). The touch keyboard has what looks like a nifty predictive capability, but I'm not sure it's any better than what's in the latest version of Android. These aren't nearly enough, but they're good.
Since RIM has continued to push BlackBerry 10 off into the future (it was originally slated for late 2012), working to perfect it rather than hasten an imperfect re-entry, there's still the chance that other mobile OSes will pass it by. Even Windows Phone 8 will be out months before BlackBerry 10, and there are already signs that Microsoft has thoroughly thought through the enterprise experience (for a more in depth look at what Microsoft is up to, generally, download our Windows 8 Survival Guide).
This week's BlackBerry Jam is something of a culmination of RIM's efforts to woo developers year-round. The company has been conducting "Jams" around the world, and claims that they've been quite popular--RIM added 10 additional cities (to the 20 originally scheduled) between May and now. And earlier this year, RIM guaranteed developers that their applications would earn at least $10,000 in the BlackBerry App World, or RIM would cut them a check for the balance.
In other words, RIM needs developers, or else all of the best hardware in the world, and all of the greatest user experience tricks in the universe won't save it. This week, RIM will give developers more BlackBerry 10 to work with--the home screen experience, the App World functionality, flow (but the Hub APIs, while available, will not be part of the phone experience yet). Undoubtedly RIM will try to inspire developers with more promises and guarantees.
We'll see if it's enough.