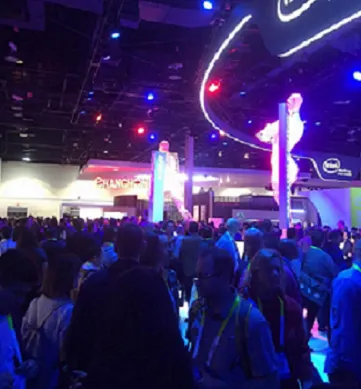 Huawei, Toshiba, ZTE Unleash Hot Smartphones, Tablets At CES 2016
(Click image for larger view and slideshow.)
This year's most exciting smartphones and tablets will draw their power from the Qualcomm Snapdragon 820 processor. Qualcomm has been talking up the 820's benefits for the better part of six months. Samsung has begun manufacturing the chip for Qualcomm, which will hit handsets before June.
On Jan. 13, Samsung announced that it had commenced mass production of CPUs using its 14-nanometer LPP (Low-Power Plus) process. This marks the second-generation of Samsung's 14nm FinFET process, which it used to forge last year's Exynos 7 Octa processor, which can be found inside its own Galaxy S6 and Note 5 handsets.
The newer 14nm LPP process introduces two key benefits over the previous generation 14nm LPE (Low-Power Early) process. Samsung claims it delivers a 15% improvement in top processing speeds while simultaneously dropping power consumption by 15%. The result is faster silicon that is more battery friendly. Samsung also claims that using 3D transistors eases some manufacturing concerns, which helps keep the cost down.
Samsung will fabricate the Qualcomm Snapdragon 820 using its 14nm process. Before Thursday's announcement, Qualcomm has relied almost entirely on Taiwan Semiconductor (TSMC) to manufacture its Snapdragon processors.
"This is very significant because never before has Qualcomm used foundries other than TSMC to make high-end chipsets," said Maybank Kim Eng analyst Warren Lau in a statement provided to Reuters. Lau believes Samsung may net as much as $1 billion from the deal, and if the manufacturing process runs smoothly Samsung may earn future business from Qualcomm.
Qualcomm's Snapdragon line competes with Samsung's Exynos line.
Thanks to 18 months of dropping profits due to sagging smartphone sales, Samsung is happy to take the business from TSMC. Samsung has committed billions to improving its fabrication facilities, and its win over TSMC shows the investment just might pay off.
Both Samsung and TSMC manufacture chips for Apple's iPhone and are likely already bidding to make Apple's next-generation processor.
[How smartphones from China dominated CES 2016.]
Samsung's own Galaxy S7 line of smartphones is expected to be among the first to rely on the Snapdragon 820. The 820 is Qualcomm's most advanced chip. It will be paired with the Adreno 530 GPU and Spectra ISP to create a powerful system-on-a-chip. The Adreno 530 is 40% faster and 40% more power-efficient than Qualcomm's older GPUs and can handle extreme 3D rendering. The Spectra ISP supports camera sensors up to 25 megapixels, and can capture 4K video at 30 frames per second with more realistic skin tones and textures.
The Galaxy S7 may be revealed as soon as Feb. 21 and ship as soon as March.
**Elite 100 2016: DEADLINE EXTENDED TO JAN. 15, 2016** There's still time to be a part of the prestigious InformationWeek Elite 100! Submit your company's application by Jan. 15, 2016. You'll find instructions and a submission form here: InformationWeek's Elite 100 2016.