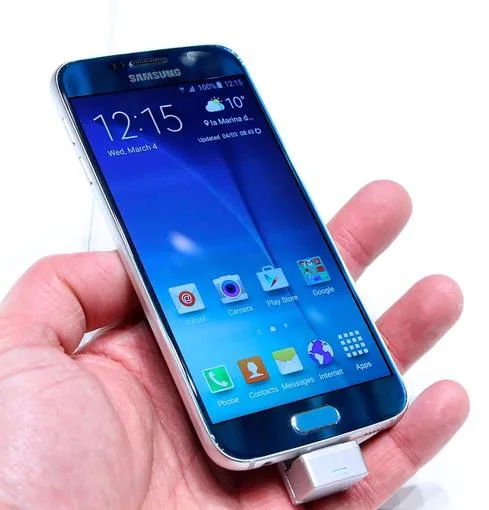 Samsung, BlackBerry, Microsoft: 10 Killer Business Devices At MWC
(Click image for larger view and slideshow.)
Samsung plans to launch the Galaxy S6 and S6 Edge smartphones globally on April 10.
In order to assure availability for their customers, wireless network operators around the world are placing huge orders for the two devices, according to published reports coming from South Korea. The fervent channel-filling activity suggests consumers may be interested in the Galaxy S6 and S6 Edge, too.
"Samsung received some 20 million pre-orders for the S6 and S6 Edge," said a top executive at a leading mobile network operator in Europe to The Korea Times. Samsung has taken orders for "15 million of [the] S6 and 5 million [of the] S6 Edge from mobile carriers worldwide. This is a record," claimed the unnamed exec. The source said his own employer had a favorable opinion of the device following its debut at Mobile World Congress in Barcelona on March 1.
These are not orders placed by individuals. Rather, they are orders placed by the companies that will eventually sell the devices to people at wireless retail stores. The large number of orders won't necessarily reflect sales to end consumers, but it is a helpful gauge of the impact the device may have. Unfortunately, similar preorder numbers for the Galaxy S5 or S4, which might be used for comparison, aren't available.
Apple typically places massive orders for its devices ahead of launch. Consider the iPhone 6 and 6 Plus, which racked up consumer pre-orders of 4 million in the first 24 hours and actually sold 10 million over the first weekend. In order to meet those numbers, Apple itself ordered in excess of 20 million devices from suppliers.
[Read about the coolest gadgets from MWC 2015.]
In the US, Verizon Wireless is the only company that has said when it will start taking orders for the Galaxy S6 and S6 Edge. Verizon is opening the virtual door on April 1, but did not say when orders for the two smartphones might ship. AT&T, Sprint, T-Mobile, and other carriers have so far remained silent about when to expect the devices. Moreover, there's no word at all on US pricing. Retailers in Europe have priced the S6 and S6 Edge at 700 and 850 euros, respectively, which amounts to about $760 and $925. Samsung's Galaxy S4 and S5 had full retail prices in the US of $649. Wireless network operators will sell the S6/S6 Edge with and without contracts, as well as through monthly payment plans.
The Galaxy S6 and S6 Edge trade in plastic materials for metal and glass. They sport 5.1-inch 2K screens, Exynos processors, 16-megapixel cameras with optical image stabilization, 3 GB of RAM, and 32, 64, or 128 GB of internal storage. The phones don't have removable batteries or expandable memory, but support QuickCharge technology and multiple wireless charging standards.
The smartphones will run Android 5.0 Lollipop out of the box with Samsung's TouchWiz user interface.
Attend Interop Las Vegas, the leading independent technology conference and expo series designed to inspire, inform, and connect the world's IT community. In 2015, look for all new programs, networking opportunities, and classes that will help you set your organization's IT action plan. It happens April 27 to May 1. Register with Discount Code MPOIWK for $200 off Total Access & Conference Passes.