Samsung today showed off a new wearable called the Gear S2. The smartwatch, which runs Samsung's own Tizen operating system, comes in several different variants that are sure to tempt the Dick Tracy in us all.
The bulk of Samsung's smartwatches have featured square or rectangular faces. The South Korean company learned a hard lesson from the runaway success of last year's Motorola Moto 360, then the only circular smartwatch, and decided to make its own round-faced timepiece.
The Gear S2 is available in a sleek, modern design, or a more elegant design befitting dressy occasions with blackened metal face and a leather strap.
The smartwatch has a rotating bezel and "back" and "home" buttons to make controlling the user interface more intuitive. The Tizen platform has its own user interface, but comes with the expected set of tools for managing incoming notifications and such.
For example Gear S2 owners will be able to view emails and news, check and set calendar appointments, as well as read and send text messages -- all from their wrist.
The wearable packages together a handful of fitness tools and allows people to track their activity over a period of 24 hours to better see trends and patterns in their movement. A bevy of sensors, including an accelerometer, a gyroscope, a heart rate monitor, and a barometer, help collect and collate data when you're on the go. These tie into Samsung's S Health application, and also work with the on-board Nike+ Running app.
Samsung says Gear S2 owners will be able to make mobile payments, thanks to NFC technology built into the watch. Samsung didn't say if the Gear S2 supports its own Samsung Pay service, but claims people can tap their wearable at "a wide selection of partners across different industries" to complete mobile payment and other transactions.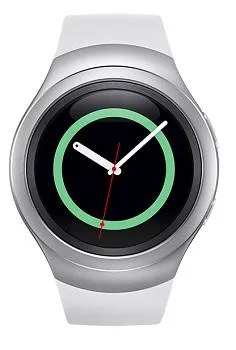 The hardware is fairly typical as far as specs are concerned. The Gear S2 has a 1.2-inch circular display with 360 by 360 pixels. It runs on a dual-core 1.0-GHz processor accompanied by 512MB of RAM and 4GB of storage. The Gear S2 and Gear S2 Classic each has a 250mAh battery that Samsung claims delivers between one and two days of battery life.
A 3G version of the watch adds the ability to make and receive phones calls on the go. It can handle basic data transfer, too, such as weather and messaging data, when separated from its smartphone. The 3G version is about 2mm thicker than the non-3G versions, and has a larger 300mAh battery.
In theory, Gear S2 owners can leave their smartphone at home and still be able to make calls, send messages, pay for things, and check the weather all from their wrist.
[Blackberry coming back? Read: BlackBerry Venice Smartphone Photos Leak Online.]
The big question facing the Gear S2 will be apps. As noted, the wearables run Tizen, not Android Wear. Samsung has scared up a reasonable number of apps for Tizen wearables, but they lag the number of apps available to Android-based wearables.
Will consumers be happy enough with the Gear S2's limited selection of apps?
Samsung is betting so.
Pricing and availability weren't disclosed. Cellular service, available initially from T-Mobile and Verizon Wireless, requires $5 extra per month when added to a standard line.