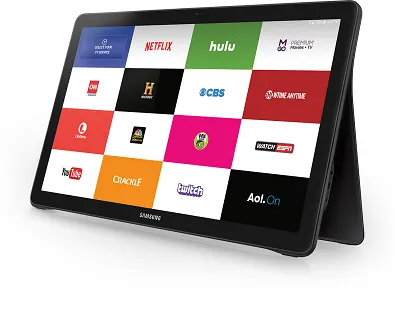 Samsung Galaxy View Review: A Big Tablet With Big Problems
(Click image for larger view and slideshow.)
Samsung is prepping the Galaxy S7 to take on the Apple iPhone 6s. The company is reportedly developing new touch-sensitive screen technology that is similar to one of the main features from the 6s -- 3D Touch -- in a bid to keep its handset competitive with Apple's smartphone.
The Galaxy S7 is slated for a March debut, according to The Wall Street Journal. The smartphone's general appearance won't vary much from the Galaxy S6, but new functions are lined up for the flagship handset. Chiefly, Samsung will add a pressure-sensitive screen to the Galaxy S7, according to the Journal's sources.
On the iPhone 6s and iPhone 6s Plus, the 3D Touch function calls up secondary actions, information, and other content when the glass is pressed more forcefully. Apple calls some of these tools Peek and Pop. For example, a 3D Touch of the iMessage icon lets you initiate a new message or respond to recently received messages.
In Safari, a 3D Touch will let you open a new tab or new private tab from the home screen.
You get the idea.
Apple has provided developers with the APIs needed to add 3D Touch actions to their own apps, and application writers are doing just that. 3D Touch adds a new dimension, if you will, to the iPhone and the ways users interact with apps. Samsung wants this power, too, but it's not going to stop there.
The next-gen handset will also include a USB Type-C connector.
In a few years, the Type-C connector will be common across phones, tablets, and PCs, but for now it is in the early stages of adoption. Type-C offers a few benefits. First, it is reversible and can be inserted easily in either orientation. Second, it is much faster. The Journal reports that rapid-charging technology via Type-C will help the Galaxy S7's battery go from empty to full in just 30 minutes. Third, Type-C can send power in both directions, so the S7 can (if Samsung wants) be used to power up other devices.
[Read InformationWeek's hands-on review of the iPhone 6s Plus.]
The main S7 model will largely resemble its predecessor, but Samsung is expected to bring back support for expandable memory. The S6 is the first Galaxy S handset from Samsung to lack a slot for microSD memory cards -- a decision that did not sit well with fans of the series. Samsung is believed to be prepping a Galaxy S7 Edge, as well, which will feature a curved screen like that of the Galaxy S6 Edge.
Samsung is also exploring the use of retina scanners for added biometric security. The S5 and S6 both featured fingerprint sensors. A retina scanner would bolster the enterprise appeal of the S7.
The Samsung Galaxy S7 will likely be announced during the Mobile World Congress trade show in mid-February and reach the US as soon as mid-March.
Earlier this month, Samsung supplanted long-time mobile chief JK Shin with Dongjin Koh. Koh's arrival may eventually shake up the company's handset plans. The S7, however, has been a work in progress for many months already and is more or less feature-complete.
**Elite 100 2016: DEADLINE EXTENDED TO JAN. 18, 2016** There's still time to be a part of the prestigious InformationWeek Elite 100! Submit your company's application by Jan. 18, 2016. You'll find instructions and a submission form here: InformationWeek's Elite 100 2016.