Microsoft this week unveiled the Surface 3, a new tablet that seemingly serves as a compromise between its Surface 2 predecessor and the Surface Pro 3. Its lower price might make the new Surface a tempting option for anyone pondering a tablet purchase.
It may seem like Microsoft's efforts would be threatened by Apple's iPad, which has long dominated a tablet sector that showed its first indication of decline earlier this year. While experts don't have high expectations for the future of tablets, research indicates that iOS will become the market's weak link while Microsoft's new OS pushes Windows ahead.
Could the Surface 3 kick-start that trend? There's a possibility. In its announcement on the product launch, Microsoft writes that the newest addition to its lineup has a thin and lightweight design optimized for full Windows and Office use, in addition to a free Windows 10 upgrade.
[10 Apple Acquisitions: What Do They Mean?]
Comparing Microsoft and Apple products often prompts a question of how the chosen device will be used. Microsoft devices are designed to foster productivity. Apple's are ideal for out-of-office use, but also lend themselves to getting things done. When the Surface Pro 3 rolled out in late 2014, the iPad was favored over a hybrid that lacked app selection and hardware functionality.
Microsoft, unlike Apple, has rarely given critics a reason to sing praises for its hardware. The Surface 3, with its lightweight design and enhanced capabilities, might cause a shift in its reputation. It's considered a laptop replacement for office-based workers, writes Microsoft's Panos Panay, a comment that inspires further comparison with Apple's MacBook.
But we're not going to venture into that just yet. Let's take a look at how the new Surface stacks up against the iPad 2 -- and which is poised to come out on top:
Price And Storage
The Surface 3 will ship in two configurations. One will run for $499, containing 64GB of internal storage and 2GB of RAM. A slightly more expensive version will cost $599 for 128GB storage and 4GB RAM. Both will have the option to include 4G LTE wireless data later this year, a feature that will boost each price by $100, reports ReadWrite. The Surface also comes with 1TB free cloud storage.
Note: If you don't already have a Surface keyboard, you'll need to shell out an extra $130 for the Surface 3 Type Cover.
The iPad Air 2 comes in 16GB, 64GB, or 128GB storage options that will cost $499, $599, and $699, respectively. A Wi-Fi and cellular option boost prices to $629, $729, and $829 for the three storage models.
Design
The Surface 3 measures 10.8 inches with 0.34-inch depth. Apple's iPad Air 2, in comparison, has a 9.7-inch screen with a thinner 0.24-inch depth. The Surface's screen has a 3:2 ratio and 1920x1280 resolution; the resolution of iPad Air 2 is 2048x1536.
Microsoft's device weighs in at 1.37 pounds (including type cover), while the iPad is a bit lighter at 0.96 pounds. Although it's thicker and heavier, the Surface also features a USB 3.0 port, microSD card reader, Mini DisplayPort, and a micro USB charging port, boosting its appeal among those accustomed to laptops.
On a more superficial level, the iPad is available in three colors: gold, silver, and space gray. The Surface 3 comes in silver but the keyboard is available in a range of bright colors including light blue, red, burgundy, purple, slate gray and dark blue. You can also choose from red, blue, black, or silver pens.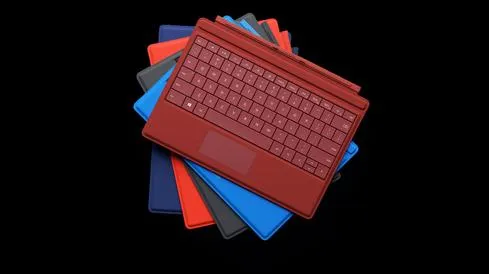 Processing And Battery Life
Microsoft's device is powered by the Intel Atom x7 processor, which boasts a base frequency of 1.6 GHz and maximum of 2.4 GHz. The iPad Air 2 runs on an Apple-designed A8X chip, which has a base frequency of 1.5 GHz.
The Surface 3 boasts a 10-hour battery life with video playback; Apple's battery will also last up to 10 hours.
Productivity
The Surface 3 will ship running Windows 8.1 when it rolls out on May 5 (it's available for preorder now), but will be eligible for a free Windows 10 upgrade when the OS launches later this summer.
In addition to Windows 10 upgradability, the device will come with a free one-year subscription to Office 365, which supports touchscreen, mouse, magnetic-keyboard, and digital-pen input. It also runs Windows desktop programs and allows touchscreen apps from the Windows Store to run side-by-side onscreen.
The new Surface also has a three-position kickstand, which is handy for productivity.
While the iPad Air 2 runs iOS 8, Apple's latest mobile OS, which supports Word, Excel, and Powerpoint but lacks pen compatibility. Users have access to millions of iOS apps, but each can only run one at a time. While Apple doesn't make keyboards for the iPad, third-party accessories are available.
Which To Choose?
The Surface's lightweight design and emphasis on productivity make it a threat to the iPad, which is already on a sales decline. If you plan to primarily use your device for Web surfing and watching videos, though, the iPad would suit your needs well.
However, if you're on a budget and looking for a laptop replacement that can also function as a tablet, the Surface 3 is a powerful device that can support Internet browsing, gaming, and entertainment in addition to Office-based work.
Attend Interop Las Vegas, the leading independent technology conference and expo series designed to inspire, inform, and connect the world's IT community. In 2015, look for all new programs, networking opportunities, and classes that will help you set your organization's IT action plan. It happens April 27 to May 1. Register with Discount Code MPOIWK for $200 off Total Access & Conference Passes.