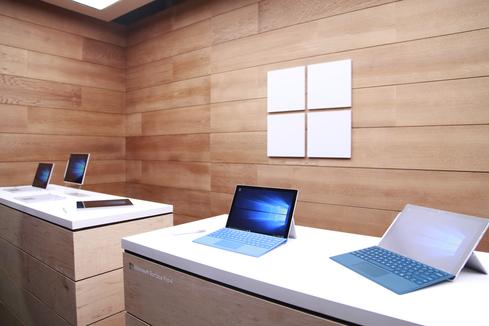 Surface Pro 4, Surface Book, Lumia 950: Microsoft's New Hardware Push
(Click image for larger view and slideshow.)
Demand for the Microsoft Surface Book appears to be outstripping supply. Orders placed today, Oct. 16, for the new laptop won't ship until December. At the same time, Microsoft is offering $200 to $300 for certain trade-ins.
The Surface Book produced lots of oohs and aahs when Microsoft unveiled it in New York City earlier this month. Those oohs and aahs are translating into ka-ching for Microsoft, which has seen much of the laptop's launch stock snapped up by early adopters.
The laptop comes in five base versions with varying amounts of internal storage and processor options. The least expensive version, which costs $1,499, includes 128GB of storage, an Intel Core i5 processor, and 8GB of RAM. It appears to be the least popular model, since orders placed today for this entry-level model will ship in five to six weeks. Three of the more expensive models show shipping times in the seven- to eight-week range, which puts them in consumer hands in early December.
The 256-GB Core i5 model is listed as "coming soon." Customers can sign up for email alerts concerning its availability.
The Surface Book has a 13.5-inch PixelSense screen with 3000 by 2000 pixels. It weighs in at 3.34 pounds, and its screen can detach from the keyboard base to provide a tablet computing experience. It offers up to 12 hours of battery life and supports stylus-based input via the Surface Pen. The Surface Book includes a typical set of ports, including USB, SD card, headphones, and Mini DisplayPort. It runs the full version of Windows 10.
The Surface Pro 4 is somewhat more available. The two least-expensive models will ship by Oct. 26. The three more costly variants are showing ship dates of Nov. 20. That's a few weeks earlier than the Surface Book. Pricing for the Surface Pro 4 starts at $1,000 and runs up to $2,200.
[What should Microsoft improve? Here's our list.]
Microsoft will let you shave a few hundred dollars off those prices if you don't mind trading in your old laptop. Microsoft isn't taking just any old hardware. There are terms and conditions.
The deal, called Easy TradeUp, requires people to buy a brand new computer valued at $599 or up. Once purchased, people can then make a trade-in claim online. In order to qualify, the trade-in has to be less than six years old, have a screen measuring at least 11.4 inches, and needs to power on. Windows machines that meet these criteria will garner a $200 trade-in. Owners of MacBooks that meet these criteria will be rewarded with $300.
Microsoft did not say how long it will offer the promotion, but it is part of a larger push to convince consumers that Windows 10 machines are worth the upgrade.