Mac computers. The upcoming slate of ultra-slim hybrid devices with next-gen Intel processors could have more mass market appeal, however.
Outside of tablets and PCs, Gartner expects smartphone growth to continue, with shipments set to hit nearly 2 billion units in 2015. Analysts don't expect this growth to allow more OS players to enter the industry, however. With Android dominating overall market share and Apple solidifying its hold over the high-end market, Gartner concluded it remains "difficult for alternative ecosystems to become more than niche players."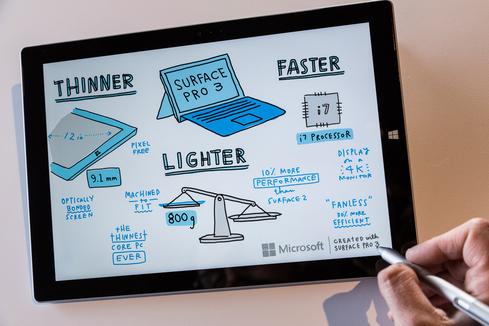 This complexity is reflected in Gartner's projections for the three major computing platforms: Windows, Android, and iOS/Mac. Although there are clear limitations to lumping desktop PCs and smartphones into a single ecosystem category, the shift toward mobile devices has reshuffled which apps and services carry the most cultural and economic sway. Gartner expects Windows to remain the dominant PC OS, but with PCs becoming just one component in multi-device use cases, Microsoft could face challenges if its mobile platforms don't pick up steam.
Earlier this year, Microsoft execs admitted that Windows runs on only 14% of devices overall and pledged to gain more users. The company is currently hedging its bets between the Windows ecosystems and an increasingly cross-platform software strategy.
In mature markets -- where users tend to buy higher-margin devices and invest more in accessories, apps, and services -- Gartner found that Android is the leading OS overall, with over 313 million device shipments projected this year. Apple's ecosystem is expected to finish a distant second in 2014, with nearly 168 million iPhone, iPad, and Mac shipments. Windows shipments are expected to hit 141 million units in 2014.
In 2015, Gartner expects the same pecking order though it projects Apple will gain ground while Windows falls farther behind. The firm estimates device shipments within Apple's ecosystem will expand nearly 9% next year in mature regions, followed by Android with 7.7% growth, and Windows with around 5%.
In developing markets, Android will amass more than 900 million device shipments this year, and over 1.1 billion in 2015, according to Gartner's data. Windows still outpaces Apple's platforms in these regions, with an estimated 194 million this year and another 221.8 million projected for 2015. Macs and iOS devices are expected to account for around 95 million shipments this year in developing regions and more than 112.6 million next year.
As was the case with mature territories, Gartner expects Windows to post the slowest growth in emerging markets, with 14.3% ecosystem growth anticipated for 2015. Gartner expects shipments of Apple devices to grow 18.2% and shipments of Android devices to grow more than 20% next year.
The Internet of Things demands reliable connectivity, but standards remain up in the air. Here's how to kick your IoT strategy into high gear. Get the new IoT Goes Mobile issue of InformationWeek Tech Digest today. (Free registration required.)