businesses securely deploy Windows Phone devices without installing additional device and data management products. Belfiore cited retail demonstrations as a potential use case. In essence, Apps Corner is Kid's Corner, the Windows Phone feature that lets parents restrict which apps their kids can use, but re-imagined for professional use.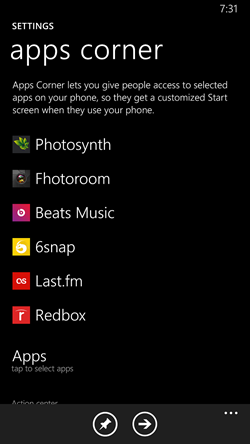 6. Windows Phone will support smart cases and voice over LTE.
As rumored, the update adds support for voice over LTE, as well the new breed of smart cases that display alerts even while the cover is closed. Smart cover support dovetails nicely with recent rumors that HTC is preparing a version of its Android-based One M8, and its Dot Cover accessory, for Windows Phone. In what's likely not a coincidence, HTC revealed Wednesday it will hold a press conference next month in New York.
7. It's not clear when all users will get Windows Phone 8.1 Update.
Whereas iPhone users can download new versions of iOS as soon as Apple releases them, Windows Phone users must wait for carriers to push out updates. As a result, Windows Phone 8.1 is still trickling out to users, and arrival times for the update are uncertain. Belfiore said the update "will roll out to consumers with devices running Windows Phone 8.1 in coming months." That said, those enrolled in the Windows Phone 8.1 Preview for Developers program will be able to gain access as soon as next week.
Consumerization means CIOs must grant personal devices access to corporate data and networks. Here's how to avoid loss and corruption. Get the new Mobile Security Action Plan issue of InformationWeek Tech Digest today (free registration required).