Computer maker Asus took the wraps off a slew of devices and gadgets during the Computex trade show Monday in Taipei, including the ZenBook 3, an ultra-slim notebook, and Zenbo, a talking robot for the home.
The ZenBook 3 is crafted from aerospace-grade aluminum alloy and features up to an Intel Core i7 processor, 16GB of 2133MHz RAM, up to a 1TB PCIe Gen 3 x4 SSD, a USB Type-C port, and quad-speaker audio by Harman Kardon.
Its boasts a 12.5-inch display and sports an edge-to-edge covering of scratch-resistant Corning Gorilla Glass 4. A slim bezel design provides an 82% screen-to-body ratio for to maximize display size.
Other features include a full-size backlit keyboard and a glass-covered precision touchpad, which incorporates palm-rejection technology, Smart Gestures, and handwriting support. There's also a built-in fingerprint reader with Windows Hello support.
The ZenBook 3 is available in Royal Blue, Rose Gold, and Quartz Grey. A special two-phase anodizing process is used to create golden highlights on the diamond-cut edges.
Zenbo Home Robot
The Zenbo home robot is designed to provide assistance, entertainment, and companionship to families. It can move independently and understand spoken commands.
As a home care assistant, Zenbo can provides spoken reminders of important information, such as doctor's appointments, medication, and exercise schedules. The robot monitors the home for emergency situations -- such as falls -- and immediately responds to them by notifying specified family members on their smartphones.
Upon receiving an emergency notification, family members can remotely control Zenbo to move nearby and use the robot's built-in camera to visually check on the family member.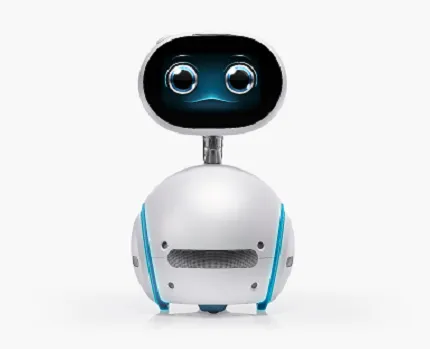 Zenbo can also connect to and control many smart home and traditional devices, including lights, TVs, and air conditioners, and homeowners can also use the robot's built-in screen to view visitors at the door and then unlock it with a voice command.
The multi-purpose device is also being pitched as an entertainment and educational companion for kids thanks to Zenbo's ability to tell interactive stories and deliver learning games. The personal robot also is being touted as a security guard because of its remote-controlled home security camera, accessible anywhere through a smartphone app.
[Read Asus Settles FTC Charges, Agrees to 20 Years of Supervision.]
Perhaps most intriguingly, Zenbo supports a number of custom apps that expand its capabilities. Asus is offering a free Zenbo Developer Program that provides members access to the Zenbo SDK to encourage development of more capabilities.
Smartphones and More
In addition to Zenbo and the Zenbook 3, Asus also released the ZenFone 3 Deluxe, the flagship model of the ZenFone 3 family. It features a 5.7-inch Full HD (1920 x 1080) Super AMOLED display powered by a Qualcomm Snapdragon 820 Series processor, an Adreno 530 GPU, and an integrated X12 LTE modem.
Features include a 23-megapixel camera with a Sony IMX318 image sensor, an f/2.0 aperture lens, and 4-axis optical image stabilization, an Asus TriTech autofocus system, and PixelMaster 3.0 technology.
Additional members of the ZenFone 3 line include the 5.5-inch ZenFone 3 and the 6.8-inch ZenFone 3 Ultra, which features the same high-resolution 23MP camera with TriTech autofocus system as ZenFone 3 Deluxe.
Rounding out the product releases were the Intel Kaby Lake powered ultra-slim compact 2-in-1 PC Transformer 3, as well as the 2-in-1 PC Transformer Mini, ultra-wide curved monitor Designo Curve MX34VQ that measures 34 inches, and the external graphics-card dock ROG XG Station 2.