Google's Chromecast devices offer a simple and affordable way to push movies, television, and music to your home entertainment center. The revised Chromecast and brand new Chromecast Audio are must-haves for every living room.
Google refreshed its Chromecast products alongside the new Nexus 6P and 5X smartphones. There are not one, but two new dongles: Chromecast and Chromecast Audio. The former is for your TV and the latter is for your favorite set of speakers.
Casting technology is based on WiFi, which is why both the new Chromecasts are round, according to Google. The old Chromecast dongle resembled a USB thumb drive and plugged into an HDMI port. The new dongles look more like a hockey puck with a cable protruding from one end. The round shape accommodates three internal WiFi antennas for connecting to your home network.
Setup takes only a moment. The Chromecast requires power, so it must be plugged into the wall as well as the TV. The dongle dangles from your TV thanks to the HDMI cable, which Google says allows other devices to plug into nearby HDMI ports without interference. Chromecast Audio comes with a 3.5mm cable for attaching to smaller speakers, but supports optical audio for connecting to home theater receivers. It, too, needs to be plugged into the wall as well as your audio equipment.
Google overhauled the Chromecast application (for Android and iOS), which makes connecting a breeze. Once the Chromecast is plugged into the TV and the wall, you need only fire up the Chromecast app on your smartphone or tablet to get it up and running. The phone or tablet needs to be connected to the same WiFi network as the Chromecast. The setup process allows you to rename each device, and I found names such as "living room TV" and "basement TV" to be helpful. With the Chromecast connected and named, you're ready to start casting.
The Chromecast app is extremely helpful in finding cast-able content. The app is broken into three tabs: What's On, Devices, and Get Apps.
What's On offers a link to YouTube, the Google Play Movies & Television Store, and any cast-enabled apps already on the device, such as Netflix, CBS, MLB TV, and so on. With this tool, you can easily find what's available on your device for casting to the TV.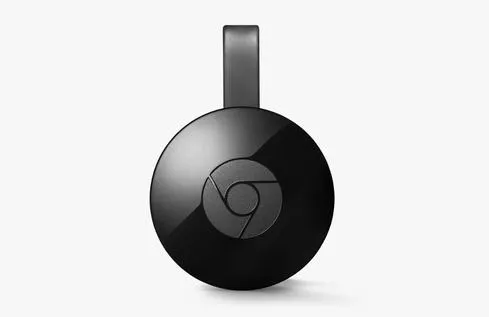 The Devices tab lets you manage the Chromecasts in your house from a single spot. In addition to control over the name of each device, users can choose to enable guest mode, which allows anyone connected to the same WiFi network to push content to the TV or speakers.
The Get Apps tool is simply a small app store of sorts populated only with cast-compatible apps. In other words, if you don't already have cast apps on your device, you can find them here.
[Read more about what Google is up to.]
Casting from your phone to Chromecast is as easy as tapping the casting button in the video or audio app. This brings up a list of the available devices; simply pick the one you want to cast to and away you go.
As noted, Chromecast relies on WiFi.
That means while the phone is used to initially push and control the content; it isn't actually streaming from the phone to the Chromecast. Instead, video and audio content are pulled from the Web over the WiFi connection. This is extremely useful. After you set up a movie or TV show, for example, you can surf the Web or scroll through Facebook while watching.
I find this most helpful with Chromecast Audio. I enjoy listening to Spotify through my home theater center, which has nice, big speakers. Before Chromecast Audio, I plugged my phone into a cable to connect to the stereo system. Obviously, this meant the device had to be left near the stereo system. With Chromecast Audio, I can start listening to a playlist and then walk away with my phone in my pocket. What's more, Chromecast Audio can be networked so the same content may be cast to multiple sets of speakers around the house.
I was very pleased with the quality of video on my HDTV and with the quality of audio through my speakers. High-definition content looked great on my TV, and Chromecast's ability to connect to the Play Store means it's easy to rent and watch a movie for a night in. Music sounded excellent when streamed at a high bit rate.
Both the Chromecast and Chromecast Audio cost $35 and are available from Google, Amazon, and Best Buy. If you're looking for a painless way to get content from your phone to your home entertainment center, Chromecast is the way to go.