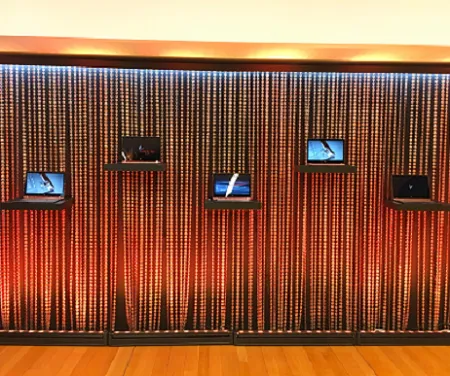 HP Spectre, Envy Updated: Powerful Processing, Luxurious Touches
(Click image for larger view and slideshow.)
HP is preparing its line of low-cost laptops for the Android revolution to come. The company Monday unveiled the Chromebook 11 G5, one of the least-expensive Chromebooks to offer a touchscreen.
The Chromebook 11 G5 represents a bit of a rethink for HP's Chromebooks. HP said it took care to design a small and light laptop with less bezel that still delivers the performance needed on the go. The new chassis is slimmed down and more convenient for students and road warriors to tote. It weighs 2.51 pounds. Further, the keyboard has a smooth design that is easier to keep free of dirt and dust (and Doritos!).
The base configuration includes an 11.6-inch screen of unknown make and resolution. An Intel Celeron N3060 processor opens apps and loads web pages in a blink, according to HP, and helps deliver 12.5 hours of battery life on the nontouch version.
Users can elect to step up the display to take advantage of touch-enabled apps. The optional HD IPS touchscreen panel is protected by Corning Gorilla Glass NBT, which reduces reflection and is damage-resistant. The Gorilla Glass prevents swipes, taps, and bumps from hurting the Chromebook 11 5G's display. The touch-enabled display does impact battery life a bit, reducing the total available uptime from 12.5 hours to 11 hours.
The touch version is likely to be the more popular of the two models, since it will give owners access to the Google Play Store and some 2 million Android apps when the new version of Chrome OS launches later this year. Some Chromebooks already have access to a developer preview of Android apps, but the preview is rather unstable and not meant for normal folks.
"The demand for Chromebook in education continues to grow as schools take full advantage of the benefits of Chrome -- manageability, simplicity, and security," Anna Wu, product manager for Chromebooks at HP, said in a statement. "The functionality of Android apps -- many of which are touch-centric -- are adding more versatile learning experiences to the classroom with a host of new education-focused apps."
[See Google Ending Automatic Chrome Support for Flash.]
HP has given us a 10,000-foot view of the Chromebook 11 G5, but the nitty-gritty details are still under wraps. For example, HP did not reveal how much RAM or storage the Chromebook 11 G5 has, nor what ports it offers.
The touchscreen may offer HD resolution (1080p?), but what about the non-touch screen? Moreover, the non-touch model costs $189, but the touchscreen variant has no price point. In other words, the Chromebook 11 5G is still somewhat of an enigma.
HP says the Chromebook 11 G5 will be available from select channel partners online starting in July, but it won't reach store shelves until October -- well after the start of the school year.