HTC 10 Takes Aim At iPhone 6s, Galaxy S7
The newly unveiled HTC 10 is the company's most refined smartphone in years, making it a true challenger for market incumbents Apple and Samsung.
HTC Tuesday officially announced the HTC 10, its flagship smartphone for the year. Crafted in aluminum, the device has some high-end specs that can go toe-to-toe with the industry's best. HTC also took pains to refresh its software to improve usability. Is HTC's best effort enough to help it win back marketshare?
The HTC 10 is not a dramatic reimagining of the smartphone, like the LG G5, but it demonstrates HTC's deadly serious commitment to competing with Apple and Samsung. The company clearly took criticism of last year's One M9 to heart and made much-needed improvements across the board.
HTC's first all-aluminum smartphone, the M7, set the tone for years to come. The M8 was similar to the M7, but had its own personality. The M9, however, was a near identical copy of the M8 -- and HTC fans cried foul. The 10 still relies on the milled-metal chassis approach, but is different enough from the M9 that it has its own identity. For example, the heavily chamfered rear edges.
The level of craftsmanship in this phone is equal that used by Apple in the iPhone 6s and Samsung in the S7. The materials and quality of manufacturing are on all a level playing field for the first time in years.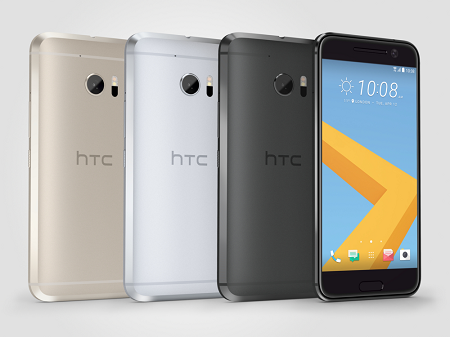 The specs impress, too, but largely mirror what's available from Samsung and LG's 2016 flagships. That means the Snapdragon 820 processor with 4GB of RAM and 32GB of storage. The 10, Galaxy S7, and G5 all support expandable memory cards. Other details shared by these three Android titans include Quick Charge support, LTE, Bluetooth, WiFi, and GPS. The 10 and G5 have USB-C, but the S7 still uses micro USB.
HTC hopes its new camera helps set the 10 apart from competitors. HTC has for years claimed to have an excellent camera in its flagship, only to fail miserably with poor imaging performance. The 10 is here to silence the critics. The phone uses a 12-megapixel camera with larger pixels and an aperture of f/1.8. Together, those should help improve low-light performance -- a weak point on previous HTC phones. The camera also boasts optical image stabilization for sharper focus and a two-tone flash for more accurate flesh tones. Impressively, the user-facing camera includes an aperture of f/1.8 and optical image stabilization, too. (We must have the best selfies possible!)
BoomSound is different in the HTC 10. It now features a separate tweeter and woofer to deliver higher-quality sound. Of note, HTC added some software to allow users to create and save their own sound profiles, or tweak how their headphones sound.

Are you prepared for a new world of enterprise mobility? Attend the Wireless & Mobility Track at Interop Las Vegas, May 2-6. Register now!
The 10 runs Android 6 Marshmallow and HTC's Sense user interface skin. Sense, like Samsung's TouchWiz and LG's UX 4.0, adds a healthy amount of customization. HTC says it worked hard to reduce bloat and app duplication on the 10 so that it looks and feels leaner. It's a flexible user interface skin that borrows from Google's Material Design so that HTC's apps look more native to the Android operating system.
On paper, the HTC 10 is a win. It covers all the right bases and purports to have resolved some of the issues that plagued older HTC smartphones. Whether or not it can truly compete with Apple, Samsung, and LG is another matter. It needs support from carriers to sell in the US. Sprint, T-Mobile, and Verizon Wireless have all committed to selling the HTC 10, but AT&T will not. HTC plans to sell the phone online directly. The price? A staggering $700.

Eric is a freelance writer for InformationWeek specializing in mobile technologies. View Full Bio
We welcome your comments on this topic on our social media channels, or
[contact us directly]
with questions about the site.