Lenovo kicked off Mobile World Congress (MWC) 2016 with the introduction of several devices -- four notebooks, three tablets and two smartphones -- and a clear intention to beat Apple in emerging markets, particularly India.
India is now the world's second-largest smartphone market, and news of Apple's plans to begin building retail stores there emerged days after The Times of India reported that more than 50% of Lenovo smartphones will be made in India this year.
The new Lenovo Vibe K5 and Vibe K5 Plus appear identical on the outside, and come in silver or gold finishes. They will run Android 5.1 Lollipop.
The Vibe K5 Plus features a 5-inch FHD display (that's 1920 x 1080 pixels) and is powered by a Qualcomm Snapdragon 616 octa-core processor and 16 GB of built-in memory, expandable up to 32 GB. There's a 13-megapixel camera on the back, a 5-megapixel camera up front, and Dolby Atmos dual rear speakers.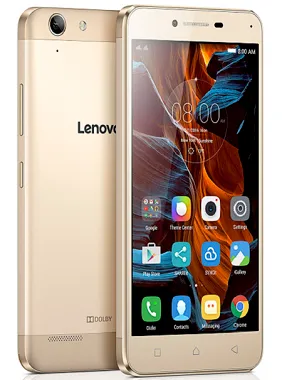 The Vibe phones weigh 142 grams and measure 8.2mm. You can compare them to the Samsung Galaxy S6, which has a 5.1-inch display, weighs 138 grams, and is 6.8mm thin. But note: Lenovo gave the K5 phones the very user-friendly perk of a user-replaceable 2,750mAh battery.
The K5 will get a 1.4GHz Snapdragon 415 octa-core processor and have a lower screen resolution of 1280 x 720 pixels.
The Vibe K5 and K5 Plus will retail for $129 and $149, respectively, beginning in March.
While Samsung currently dominates in India, Lenovo, following its purchase of Motorola from Google, has managed to do well there also. During the third quarter of 2015, its marketshare had risen to nearly 10%, up from 6% the quarter before, when it distinguished itself as the only Chinese brand among top-five smartphone sellers in India, according to Statista.
Android Tablets
Lenovo has been defining itself with flexibility --in pricing, in markets, in user groups, and with its products themselves.
In Barcelona, it introduced the Tab3 10, an Android-running tablet for business use, and the family-geared Tab3 7 and Tab3 8, priced at $199, $99, and $129, respectively. The 7, 8, and 10 are nods to screen sizes.
[Read Google, Lenovo Team on Project Tango Smartphone.]
The Tab3 10 features Android for Work, Google Play for Work and what Lenovo sums up as an "array of security and encryption options." Like its other new tablets, it's dust-proof, splash-proof, and rather tough, as Lenovo imagines it for uses including kiosks, point-of-sale, classroom management, and healthcare.
It runs a 1.3GHz Quad-core processor, gets a promised 12 hours of battery life and easily connects to accessories, with a full USB slot and connectivity options, including NFC, dual-band WiFi, full GPS, and 4G.
The Tab3 8 and 7 feature a slew of kid-friendly features, from multi-user modes and safe-browsing options to Adaptive Display technology that filters out blue light, making viewing safer on young users' eyes.
Windows 'Notebooks'
Also in the new lineup were two consumer-geared Windows 10 convertible laptops, the Yoga 710 and 510, plus the ideapad MIIX 310, a two-in-one detachable laptop-slash tablet.
The Yoga 710 is available as an 11-inch model with up to a Core m5 processor, and as a 14-inch model with a 6th Gen Intel Core i7 processor. The convertibles, living up to the moniker, can adjust into four modes: laptop, stand, tent, and tablet.
With the 14-incher come the options of a 256GB solid-state drive and Nvidia GeForce graphics, plus the perk of an innovative hinge that's also an antenna, said to deliver a 20% better WiFi connection.
The Yoga 510 can also contort into all four positions. It claims a 50% improvement in battery life (now up to 8.5 hours, per Lenovo).
A 14-inch version weighs approximately 3.9 pounds and a 15-incher weighs 4.6 pounds. They're powered by 6th Gen Intel Core i7 processors and the option of an AMD Radeon M460 2GB GFX card.
The 10-inch MIIX 310 comes standard with a detachable keyboard. It also boasts of a reported 10-hour battery life and weighs just 1.3 pounds. Movie-lovers and globe-circlers take note: That battery-enhancing, tray-table-friendly design can be paired with an FHD (1920 x 1080) display.
The 11-inch and 14-inch Yoga 710 devices will arrive in May, priced around $880 and $1,000, respectively. The 14-inch and 15-inch Yoga 5101 items will arrive in April, priced around $527 and $770. The ideapad MIIX 310 will arrive in June, starting around $296.
Rising stars wanted. Are you an IT professional under age 30 who's making a major contribution to the field? Do you know someone who fits that description? Submit your entry now for InformationWeek's Pearl Award. Full details and a submission form can be found here.