Microsoft is rolling out new Universal Office applications as part of the company's technical preview of Windows 10. The latest versions of Word, Excel, and PowerPoint are accessible in the new Windows Store Beta, starting today.
The most recently updated Office apps can be downloaded on PCs, laptops, and tablets running the Windows 10 technical preview, according to a Microsoft blog. The company expects to broaden its preview to include phones and tablets running Windows 10 "in coming weeks."
Microsoft announced its plan to launch Universal Apps as part of its Jan. 21 Windows 10 press event. These apps will run on Windows 10 and maintain consistent performance across a range of devices including phones, PCs, and tablets.
The Office suite is optimized for touchscreen and mobile devices, and will be pre-installed for free on Windows 10 smartphones and small tablets. Universal apps will also be available for download in the Windows Store for other devices.
[Can Google Glass compete with HoloLens? No way.]
The new Office for Windows 10, which is expected to launch in full later this year, will include Word, Excel, PowerPoint, Outlook, and OneNote. Microsoft's technical preview for the desktop version of Windows 10 debuted late last month, and the mobile preview is expected to launch later in February.
For Windows Insiders eager to download the preview of Office for Windows 10, here is a sneak peek at what to expect:
Word
Word for Windows 10 will allow users to create, review, edit, and mark up documents, then share work with others for real-time collaboration. A new Insights for Office feature (powered by Bing) in Read mode enhances the reading experience with online resources, including Web references, images, and definitions.
PowerPoint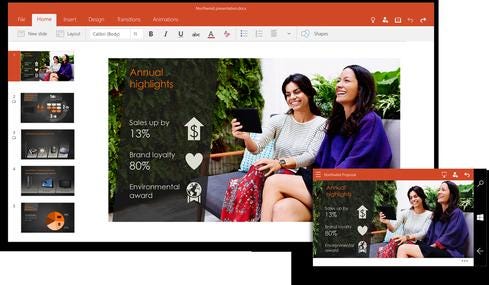 The PowerPoint app enables creating and editing presentations via touch screen. In Presenter view, users can prepare, present, and annotate slides in real-time.
Excel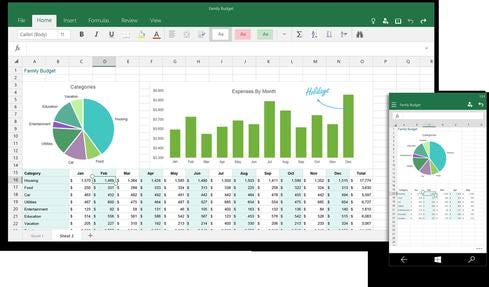 The touch-optimized version of Excel allows users to create and edit spreadsheets then analyze and visualize the data using charts. New touch-first controls enable easy selection, formatting, and management of cells, charts, and workbooks.
Attend Interop Las Vegas, the leading independent technology conference and expo series designed to inspire, inform, and connect the world's IT community. In 2015, look for all new programs, networking opportunities, and classes that will help you set your organization's IT action plan. It happens April 27 to May 1. Register with Discount Code MPOIWK for $200 off Total Access & Conference Passes.