Google Pledges $1 Million To Special Ed Via Android Pay
Google promises to donate $1 for every Android Pay purchase towards special needs education projects. It will donate up to $1 million this holiday season.
Google is in a giving spirit this holiday season, and you can join in its philanthropic efforts by using Android Pay from now through the end of 2015.
The tech giant has pledged to donate $1 towards special needs education projects for every transaction completed on Android Pay. It plans to donate up to $1 million over the holidays.
Its campaign started Nov. 24 and will run through Dec. 31. On Black Friday (Nov. 27) the per-purchase donation will double, giving Android users another reason to join in the holiday shopping kickoff.
[ Holiday shopping at work? This is what your CIO thinks. ]
There are 6.4 million children in the US education system who have special needs, Google officials wrote in a blog post on the project. Teachers spend nearly $500 out of pocket to outfit their special needs classrooms.
To support classrooms across the country, Google.org and Android Pay have teamed up with DonorsChoose.org for their holiday fundraiser.
While a means of raising money for a worthy cause, this project is also intended to broaden the adoption of Android Pay, Google's mobile payments system. Mobile payments are slowly increasing, but it's difficult to get people enthusiastic about the idea when most see no inconvenience in reaching for their wallets at checkout.
Google's latest charitable campaign makes it easy for Android users to participate in a fundraiser while they do their usual holiday shopping. All they need to do is set up the system on their smartphones.
Android Pay is poised to compete with Apple Pay in the growing mobile payments arena. Like its rival, Android Pay enables customers to tap for payment at the point of sale.
Google announced Sept. 10 its plans to roll out Android Pay to nearly 1 million locations across the U.S. The system works with all NFC Android devices running KitKat 4.4 or higher on smartphones from all mobile carriers.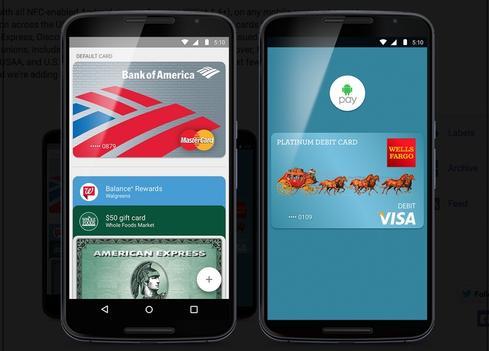 At launch time, Android Pay supported American Express, MasterCard, Visa and Discover. Banks including Citibank and Capital One were on a growing list of financial companies planning to get on board.
This campaign is part of the Google Impact Challenge: Disabilities project. The initiative aims to spark awareness, find solutions, and create new opportunities for disabled people.
Other efforts through the challenge have supported Veterans Day and the Special Olympics. In September 2015, Google hosted the Bay Area Makeathon to bring together people who understand disabilities with designers, technologists, and makers for the purpose of exchanging ideas, designing prototypes and writing code to help address the challenges of disabled people.
**New deadline of Dec. 18, 2015** Be a part of the prestigious InformationWeek Elite 100! Time is running out to submit your company's application by Dec. 18, 2015. Go to our 2016 registration page: InformationWeek's Elite 100 list for 2016.
Kelly Sheridan is the Staff Editor at Dark Reading, where she focuses on cybersecurity news and analysis. She is a business technology journalist who previously reported for InformationWeek, where she covered Microsoft, and Insurance & Technology, where she covered financial ... View Full Bio
We welcome your comments on this topic on our social media channels, or
[contact us directly]
with questions about the site.