iOS 8 Points To Apple's Future
iOS 8 delivers immediate improvements to Apple devices while promising richer mobile apps down the line. Just brace yourself for a huge download.
Last year, iOS 7 delivered a major visual overhaul to Apple's mobile devices. iOS 8, released on Wednesday, brings changes that are less obvious but more meaningful.
Apple's description of its latest mobile operating system -- "huge for developers, massive for everyone else" -- works both as a figurative description of the software's importance and as a literal statement about the size of the update. You might have a problem downloading it on devices with lots of apps or media files -- it requires 4.6 GB of storage space (more in some cases). But it's well worth the effort, even if a few files have to be deleted along the way.
iOS 8 shows Apple opening up to third-party developers and becoming less restrictive. It includes support for app extensions, by which developers can extend app functions beyond their apps. A developer, for example, can create an extension that creates a custom keyboard, that displays data in the Notification Center, or that enables social sharing with a website.
The update allows developers to use Apple's Touch ID sensor to authenticate users in their own apps, which will make Apple Pay (coming next month) easier to use in third-party apps.
[Apple is entering the wearables market, but current technology only gets the company so far. Read Apple's Next Chapter: 10 Key Issues.]
iOS 8 also introduces a set of features called Continuity, which lets Apple products work together more efficiently. For example, Apple's AirDrop on iOS soon will be able to communicate with AirDrop on OS X (once OS X Yosemite is released). It also provides a way to make voice calls over WiFi and to send and receive SMS and MMS messages from a Mac or iPad through an iPhone running iOS 8.
Handoff, a Continuity service, allows users to pass data from one app to the same app on a different device via iCloud. It makes locally installed apps more like cloud apps, but there are some limitations, like the fact that it can only trade data between apps signed by the same developer. So, for instance, Apple's mobile Safari could not talk to Google Chrome.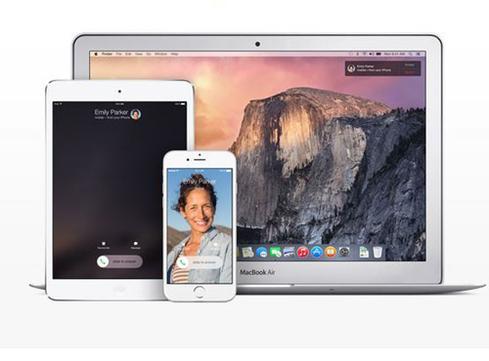 Much of iOS 8 is a foundation for the future. Apple has included several new APIs that simplify or expand what iOS 8 apps can do. These include: PhotoKit, CloudKit, HealthKit, HomeKit, SceneKit, SpriteKit, and Metal. The first four of these APIs will be relevant to Apple Watch applications next year as well as standard iOS 8 apps, and OS X apps, with the release of OS X Yosemite. The last three of these APIs provide easier programming and more power for game developers.
In the case of HealthKit apps, Apple discovered a bug on Wednesday after the release of iOS 8 that has forced the company to withhold HealthKit-enabled apps until later this month.
The PassKit API introduced in iOS 7 has been expanded to support Apple Pay, once the payment service is released. And Apple has improved its Photos framework and camera APIs, which will allow developers to create more sophisticated apps for taking and editing pictures.
iOS 8 includes iCloud Drive, a new version of iCloud that makes Apple's cloud storage more like Dropbox and less application-specific. Those installing iOS 8 will have the option to upgrade from a standard iCloud account. Anyone using iCloud for OS X will want to wait for the OS X Yosemite release next month to avoid incompatibility between the two iCloud versions.
Apple-oriented families should appreciate the Family Sharing feature, which allows a single Apple ID to oversee app store purchases while allowing different IDs for instant messaging and iCloud.
There are a variety of other improvements as well. In all, iOS 8 feels both satisfying for its utility -- and unfinished. Tentpole features such as iCloud Photo Library and Apple Pay await a future update, as do OS X compatibility improvements. So much of iOS 8 points to future possibilities that it's difficult to assess its immediate value. But iOS users will still want to download it now, if they can find the space.
In its ninth year, Interop New York (Sept. 29 to Oct. 3) is the premier event for the Northeast IT market. Strongly represented vertical industries include financial services, government, and education. Join more than 5,000 attendees to learn about IT leadership, cloud, collaboration, infrastructure, mobility, risk management and security, and SDN, as well as explore 125 exhibitors' offerings. Register with Discount Code MPIWK to save $200 off Total Access & Conference Passes.
Thomas Claburn has been writing about business and technology since 1996, for publications such as New Architect, PC Computing, InformationWeek, Salon, Wired, and Ziff Davis Smart Business. Before that, he worked in film and television, having earned a not particularly useful ... View Full Bio
We welcome your comments on this topic on our social media channels, or
[contact us directly]
with questions about the site.