Microsoft Enhances Office For iPad
Office for iPad includes better pivot table support and expanded presentation tools, but can it maintain momentum against free competitors?
Microsoft on Thursday announced several updates for Office for iPad, highlighted by expanded pivot table support in Excel, new presentation tools in PowerPoint, and an "export to PDF" function for the whole suite.
Earlier this month, Microsoft revealed that Office for iPad has been downloaded more than 35 million times since launching four months ago. Though the company did not provide granular financial breakouts, Microsoft also indicated that Office for iPad, which is free but requires an Office 365 subscription for full functionality, contributed to soaring consumer Office 365 revenue over the last quarter. With the new features, Microsoft hopes to continue this momentum.
Before Thursday's update, Excel for iPad users could view pivot tables in existing documents -- but without support for creating or modifying tables, that was about it. The app still isn't as fully featured as the desktop version but now offers the ability to sort, filter, expand, collapse, refresh, and show details within tables whose data is contained in the workbook. Users can also change a pivot table's style and layout.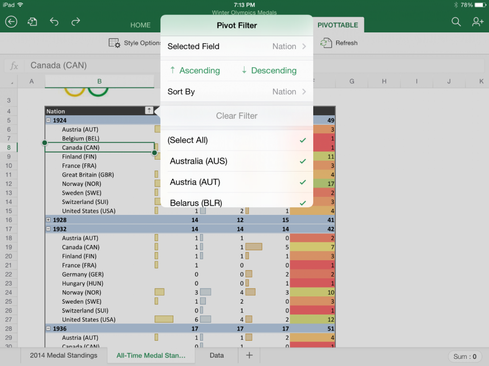 The update also makes it easier to use touch gestures to work with large amounts of Excel data. If a user grabs the selection handle and flicks in any direction, Excel will now select everything from the handle to the next blank cell. In a blog post, Microsoft illustrated that a user at the top of a column of data can select all the way to the bottom by simply flicking down, for example.
Rounding out the Excel enhancements, Microsoft added support for not only external keyboards, including a variety of shortcuts, but also additional printing tools, including options for more paper sizes, and more scaling options.
PowerPoint for iPad, meanwhile, gains Presenter View, which enables the user to see notes and upcoming slides while a presentation is being projected. PowerPoint also now supports hyperlink editing from within the app, as well as the insertion of video and sound files. Users can insert video directly from iOS's Camera Roll. PowerPoint's eraser, and pen tools also include new settings to enable easier annotations.
Office for iPad gains two new photo-editing tools: Crop and Reset. Unsurprisingly, Crop lets users crop images, either manually or with a menu of presets. If the user wants to remove changes he's applied to a picture and start over, meanwhile, Reset covers the job. Additionally, Office for iPad now supports fonts that users can install from various third-party iPad apps.
All three apps can now export files as PDFs. Located in the Share menu, the feature is available to all Office for iPad users, even those who don't use Office 365. The other new enhancements, like almost all the apps' existing features beyond basic file viewing, require a subscription.
In addition to building on Microsoft CEO Satya Nadella's cross-platform strategy, the Office for iPad updates continue Office 365's "rapid release" cadence, in which updates are continually pushed via the cloud, rather than added in big chunks every few years. Microsoft released its first update for Office for iPad 33 days after the apps launched, when the company added support for printing.
Even before this week's updates, Office was arguably the iPad's most fully featured productivity suite, especially for spreadsheet power users. Unlike Apple and Google's competing offerings, however, Office for iPad isn't free. By continuing to add new features, Microsoft hopes to show that even as basic features become commoditized, its software is still worth paying for.
In its ninth year, Interop New York (Sept. 29 to Oct. 3) is the premier event for the Northeast IT market. Strongly represented vertical industries include financial services, government, and education. Join more than 5,000 attendees to learn about IT leadership, cloud, collaboration, infrastructure, mobility, risk management and security, and SDN, as well as explore 125 exhibitors' offerings. Register with Discount Code MPIWK to save $200 off Total Access & Conference Passes.
Michael Endler joined InformationWeek as an associate editor in 2012. He previously worked in talent representation in the entertainment industry, as a freelance copywriter and photojournalist, and as a teacher. Michael earned a BA in English from Stanford University in 2005 ... View Full Bio
We welcome your comments on this topic on our social media channels, or
[contact us directly]
with questions about the site.