MyShake Android App Helps Detect Earthquakes
UC Berkeley scientists have launched a smartphone app that uses smartphones to pinpoint the location and intensity of earthquakes. The app is available to Android users through Google Play.
In an effort to help people in earthquake prone areas, a smartphone application called MyShake, developed by University of California Berkeley scientists, uses the phone's sensors to detect movement caused by tremors in the ground.
Available for Android phones through Google Play, the free app runs silently in the background on a user's phone, using very little power. When the shaking fits the vibrational profile of an earthquake, the app sends the anonymous information to a central system that confirms the location and magnitude of the quake.
The UC Berkeley Seismological Laboratory hopes to create a dense network that could one day provide warnings prior to shaking.
The data will also be used to study earthquake processes as part of the lab's ongoing effort to reduce the impact of future quakes.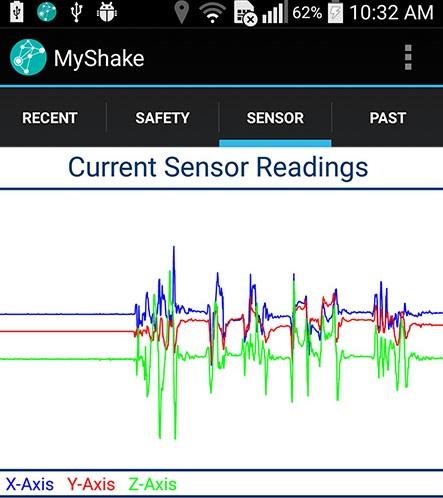 The location, origin time, and magnitude of the earthquake are determined on the basis of multiple triggers from the network of phones.
This information can be used to estimate the shaking intensity and the remaining time until damaging waves arrive at a target location.
"This is a citizen science project," Richard Allen, director of the Berkeley Seismological Laboratory at UC Berkeley, told the Los Angeles Times on Feb. 12. "This is an app that provides information, education, motivation -- to the people who've downloaded it -- to get ready for earthquakes. Those same people are contributing to our further understanding of earthquakes, because they're collecting data that will help us better understand the earthquake process."
A research article on the app published in the journal Science Advances noted smartphones are much more prevalent than traditional networks and contain accelerometers that can also be used to detect earthquakes.
"MyShake could be used to enhance earthquake early warning (EEW) in regions with traditional networks and could provide the only EEW capability in regions without," according to the article. "In addition, the seismic waveforms recorded could be used to deliver rapid microseism maps, study impacts on buildings, and possibly image shallow earth structure and earthquake rupture kinematics."
The MyShake design is different in that we use past earthquake information to develop a classifier algorithm to identify earthquake shaking on a single phone and then communicate with a centralized processing center (CPC).
Previous work has also demonstrated that GPS sensors on smartphones -- rather than the accelerometer -- can be used to detect earthquakes and potentially provide a warning.
The article noted that in the future, existing EEW systems that use traditional seismic and geodetic networks could benefit from MyShake, as MyShake could benefit from integration of data from traditional networks.
[Which smartphone has the best rumors: The iPhone 7 or the Galaxy S7?]
With the news that the battered city of Christchurch, New Zealand, was struck by yet another serious earthquake, and given the recent tremor that rattled Oklahoma, social media and smartphone cameras have been distributing images and information. The MyShake app could be a big benefit in helping people get out of harm's way in time.
The app also provides users with information about recent quakes around the world, as well as info on some of the history's biggest and most devastating seismic events.
Does your company offer the most rewarding place to work in IT? Do you know of an organization that stands out from the pack when it comes to how IT workers are treated? Make your voice heard. Submit your entry now for InformationWeek's People's Choice Award. Full details and a submission form can be found here.
Nathan Eddy is a freelance writer for InformationWeek. He has written for Popular Mechanics, Sales & Marketing Management Magazine, FierceMarkets, and CRN, among others. In 2012 he made his first documentary film, The Absent Column. He currently lives in Berlin. View Full Bio
We welcome your comments on this topic on our social media channels, or
[contact us directly]
with questions about the site.