Whether you're a paying subscriber or just sampling the free version, here's how to get the most out of Microsoft Office on your iPad.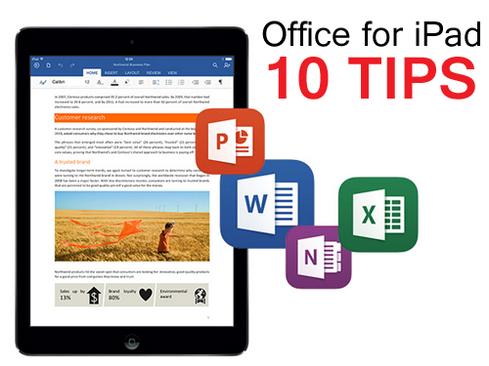 In its brief, six-month existence, Office for iPad has quickly become one of the most popular downloads in Apple's App Store. As of July, the touch-oriented version of Microsoft's ubiquitous productivity software had already registered more than 35 million downloads.
It's unclear exactly what impact all of that downloading is having on Microsoft's bottom line, of course. The reason? Those download numbers include the "free" versions of Office for iPad apps -- Word, Excel, and PowerPoint -- that users can download without paying for an Office 365 subscription.
The free apps are file viewers, essentially, with a few added perks. In order to get a fully functioning Office for iPad, one that lets you create and edit documents as well, you have to pay an Office 365 subscription starting at $7 a month.
Enterprises running Microsoft Office might have the most to gain from the iPad version, particularly if they have growing numbers of iPad-toting workers. But given its relatively high price, the suite's appeal to consumers and small business is less clear. The App Store has many worthy alternatives to Office, including Google's Docs, Sheets, and Slides apps, which might lack Office for iPad's power and elegance, but are free to use. And Apple's Pages, Numbers, and Keynote apps -- which together make up the iWork suite -- come free with new iOS devices, or cost just $10 apiece in the App Store.
As a component of Microsoft's Office 365 strategy, Office for iPad is targeted mostly at business users, including small and mid-size shops. On Oct. 2, Microsoft announced the availability of new Office 365 subscription plans, including one that allows full access to the desktop, tablet (iPad and Windows), smartphone, and online versions of Office, all for $8.25 per user a month.
By enabling business users to create and collaboratively edit documents across a variety of mobile and desktop devices, Office might yet stay relevant in a world where bloated and pricey productivity suites are growing less significant.
Reviewers have praised Office for iPad for its usability and touch-friendly design, while acknowledging that the iPad version is a scaled-down edition of the Windows and Mac versions.
Microsoft has been issuing regular Office for iPad updates, adding printing capabilities and other key features that were missing at launch. Click through our slideshow for tips on how to make the most of these new features.
Jeff Bertolucci is a technology journalist in Los Angeles who writes mostly for Kiplinger's Personal Finance, The Saturday Evening Post, and InformationWeek. View Full Bio
We welcome your comments on this topic on our social media channels, or
[contact us directly]
with questions about the site.