Smartphoning While Walking: App Says Look Up!
Softbank's new app, Stop Aruki Sumaho, urges pedestrians to avoid collisions and injuries.
Nearly 5,000 pedestrians are killed in the US each year. Most of these deaths are caused by inattentive or distracted drivers, poor intersection design, and risky jaywalking. Some, however, can be attributed to distracted smartphone users. Japan's SoftBank hopes to avert these smartphone-related pedestrian casualties with Stop Aruki Sumaho, a new application that warns users to keep an eye on the sidewalk.
Stop Aruki Sumaho, which translates roughly to "stop smartphone use while walking," is free to SoftBank's Android customers. The app uses the smartphone's internal sensors to detect when it is moving at walking speed. Once it determines the device is in motion, a yellow banner appears across the top of the display and freezes the screen. It unfreezes once the app detects the device is no longer moving.
Data from Tokyo indicates that 122 pedestrians visited the emergency room between 2010 and 2013 due to accidents caused by smartphone distraction. So far this year, there have been 36 such injuries, including a 10-year-old who fell off the platform in a train station and was nearly hit by an oncoming train. According to an Ohio State University study, the number of cellphone-related ER visits by pedestrians jumped 300% in the US between 2004 and 2010, with 16- to 25-year-olds at greatest risk. The OSU study blames smartphones for causing some 1,500 pedestrian injuries in 2010 alone.
[New WiFi feature lets visitors to WW II memorial get personal. Read WW II Memorial Debuts Connection To The Past.]
A more recent study compiled by the National Complete Streets Coalition ranked the country's deadliest cities for pedestrians. Think New York or Chicago tops the list? Guess again. The most dangerous US city for pedestrians is Orlando, Fla., followed by Tampa, Jacksonville, and Miami. Then come Memphis, Birmingham, Houston, Atlanta, Phoenix, and Charlotte. (On the flip side, the safest city for pedestrians is Boston.) The National Complete Streets Coalition reports 47,025 pedestrian deaths and more than 676,000 injuries between 2003 and 2014. In other words, it's a serious concern.
Meanwhile, a SoftBank executive admitted to The Wall Street Journal that it's hard to imagine true smartphone addicts will actually use the app. "We are hoping it will raise awareness about this serious issue and encourage users to enjoy their smartphones safely," he said. But at least the company is giving it a shot.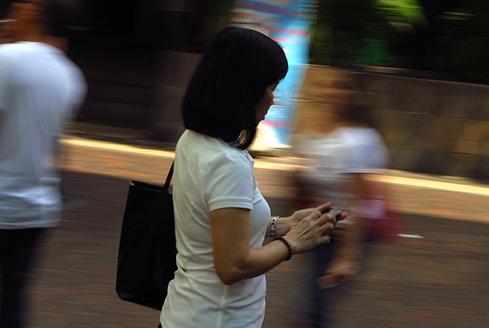 Earlier this year Apple filed a patent with the US Patent and Trademark Office for something called "transparent texting." Rather than flashing a yellow banner across the top of the screen, transparent texting projects a live video feed from the camera underneath the messaging application (which is transparent), letting users see where they're going while they send and read messages. However, Apple files lots of patents, many of which never end up in products -- so don't expect to see transparent texting come to the iPhone anytime soon.
Both ideas have merit, but both also ignore this fact: People are besotted with their smartphones and will use them whenever they want and wherever they are -- regardless of the danger.
Can the trendy tech strategy of DevOps really bring peace between developers and IT operations -- and deliver faster, more reliable app creation and delivery? Also in the DevOps Challenge issue of InformationWeek: Execs charting digital business strategies can't afford to take Internet connectivity for granted.
Eric is a freelance writer for InformationWeek specializing in mobile technologies. View Full Bio
We welcome your comments on this topic on our social media channels, or
[contact us directly]
with questions about the site.