Windows 8.1 Update 1: 10 Key Changes
Windows 8.1 Update 1 makes the Modern UI and Start screen a little friendlier for the mouse-and-keyboard crowd. But it won't silence critics.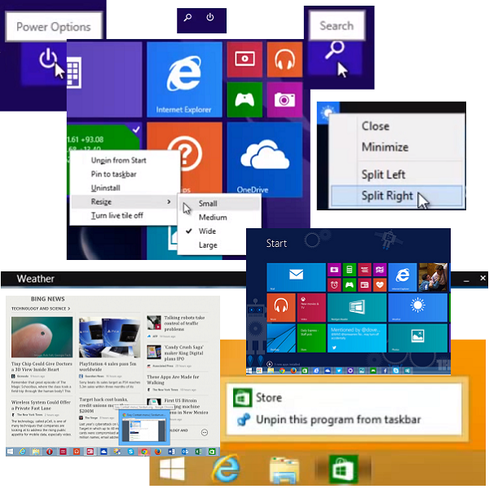 Update 1... already?
Microsoft is prepping yet another Windows 8.x update, one it plans to make available the first week of April, according to various reports. As its name suggests, Windows 8.1 Update 1 isn't exactly a dramatic overhaul of Windows 8.1, which Microsoft released just five months ago. Rather, it offers incremental improvements designed to make Windows 8's touch-oriented Modern UI a bit more appealing to mouse-and-keyboard users.
Window 8's interface has been controversial since its official launch in 2012. Does the hybrid UI represent the future of computing? Is it useful? Half-baked? An ambitious experiment gone hideously wrong?
More pundits these days seem to be migrating to the hideous camp. For instance, here are two recent -- and very bearish -- takes from seasoned Windows bloggers Paul Thurrott and Woody Leonard.
In a Feb. 9 post titled "What the Heck is Happening to Windows?" Thurrott wrote:
Windows 8 is not well-designed. It's a mess. But Windows 8 is a bigger problem than that. Windows 8 is a disaster in every sense of the word.
Leonard, in a Feb. 10 article ("The sorry state of Windows 8.1 Update 1") for InfoWorld, was just as scathing:
Personally, I don't see anything about Update 1 that warrants a complete reversal of faith; it simply lumbers along in the ill-defined path of its predecessors. Windows 8 is bad, as I've been saying for years, and Windows 8.1 did little to improve the situation. Win 8.1 Update 1 is just more of the same, piled higher and deeper.
InformationWeek's Michael Endler takes a slightly more positive view in a Feb. 28 column:
Windows 8's reliance on touch alienated many longtime Microsoft customers, and Windows 8.1 appears to have undone only some of the damage to the product's reputation. The update coming this spring appears to still lack a Start menu, which will disappoint desktop users. Still, a version of Windows 8 that works better on non-touch devices can only help.
Tech pundit criticism doesn't mean that Windows 8.x (and its oddball, dual-interface design) is doomed. However, data points from the field, including declining PC shipments and surging tablet and Chromebook sales, suggest the OS is in serious trouble.
Windows 8.1 Update 1 is a minor upgrade, not something designed to correct the operating system's core flaws. On the plus side, it does manage to make the Modern UI a bit more palatable to mouse-and-keyboard users by blurring the boundaries between the Windows desktop and the tile-oriented Start screen. Are its changes welcome? Yes. Will they be enough to silence Windows 8's critics? Not even close.
But, hey, decide for yourself. Click through the slideshow to see 10 significant changes in Windows 8.1 Update 1.
Jeff Bertolucci is a technology journalist in Los Angeles who writes mostly for Kiplinger's Personal Finance, The Saturday Evening Post, and InformationWeek. View Full Bio
We welcome your comments on this topic on our social media channels, or
[contact us directly]
with questions about the site.