Wireless X-Ray Vision Tech Tracks People Through Walls
MIT researchers have developed a system called RF-Capture that can track motion like Microsoft's Kinect, except that it works through walls.
Researchers at MIT's Computer Science at Artificial Intelligence Lab (CSAIL) have developed a system that can track human motion through walls using wireless radio signals.
RF-Capture, described in a paper (PDF) accepted for next week's SIGGRAPH Asia conference, demonstrates that signals in the same frequency range as WiFi can locate people in a room through a wall, distinguish people based on body outline, and track movements and the positions of limbs.
Other methods of tracking human motion exist, but they can have disadvantages in certain situations. For example, Microsoft's Kinect system, used to track motion for gameplay, relies on infrared light. It requires direct line-of-sight and thus can be blocked by intervening obstacles. Traditional cinematic motion-capture techniques rely on sensors affixed to the subject, and may not be practical or desirable.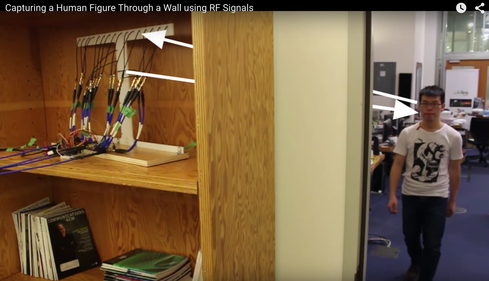 Then there are radar-based systems like airport security scanners that use millimeter or submillimeter waves. Some of these, as the researchers explain in their paper, can image human skeletons accurately, but they're costly, bulky, useful only over short distances, and can't deal with obstructions.
There are also radar-based systems like Camero's Xaver line that employ centimeter waves (3-30 GHz), the portion of the electromagnetic spectrum used for WiFi and RF-Capture (5-7 GHz). These systems are designed to provide situational awareness of enclosed spaces for military and law enforcement operations. While they may be well-suited for identifying the locations of people in rooms, those through-wall imaging systems, the researchers claim, cannot track human limbs accurately or construct a human figure.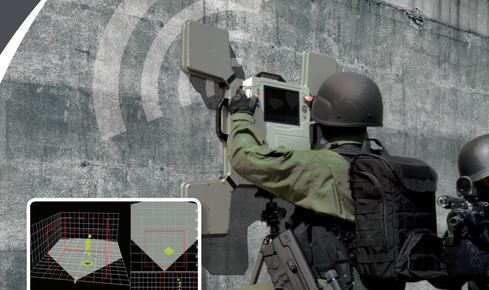 The researchers -- MIT professors Dina Katabi and Frédo Durand, PhD students Fadel Adib and Chen-Yu Hsu, and undergraduate intern Hongzi Mao -- claim their system can distinguish between two different people with 98% accuracy. When there are ten subjects, accuracy decreases to 92%. With fifteen subjects, accuracy falls further to 88%.
RF-Capture can track limbs with an accuracy of 92%, according to the researchers, who say their system tracks motion about as well as Kinect.
The technology is already headed to market in the form of a device called Emerald that monitors multiple rooms using radio waves to detect whether an elderly or infirm person has fallen and may need assistance.
[Read Electronic Warrantless Surveillance: What IT Should Know.]
While the researchers note that RF-Capture could enhance systems like Xbox Kinect by making motion-tracking function across rooms, they also note the ability to track human motion has surveillance applications.
The New York City Police Department has been using vans equipped with x-ray scanners to conduct drive-by bomb searches. With further refinement, RF-Capture might prove useful for drive-by manhunts or related law enforcement efforts, not to mention all sorts of commercial and corporate presence-detection applications. Privacy-minded individuals may wish to start looking at Faraday-cage housing.
Thomas Claburn has been writing about business and technology since 1996, for publications such as New Architect, PC Computing, InformationWeek, Salon, Wired, and Ziff Davis Smart Business. Before that, he worked in film and television, having earned a not particularly useful ... View Full Bio
We welcome your comments on this topic on our social media channels, or
[contact us directly]
with questions about the site.