LG Updates G Watch To Halt Corrosion
LG moves to stem smartwatch hardware problem, begins sales of 7-inch Android tablet with AT&T.
LG is delivering a small system update to the G Watch, its Android wearable, to resolve a problem plaguing the hardware. The company also teamed with AT&T Monday to kick off sales of the G Pad 7.0, its small-screened Android tablet.
Owners of the LG G Watch have complained in recent weeks about discoloration and residue buildup around the charging pins located on the back of the device. The issue, it seems, is that the pins maintain an electrical current when not charging. In addition to the discoloration, some users also complain about discomfort when wearing the watch. Some even claim to have received burns from their G Watches. The electrical current (however small) in the pins interacts with owner perspiration and causes a galvanic reaction. LG took action to resolve the issue, according to Android Police, which quoted an LG spokesperson:
Recently it has come to our attention that a small number of G Watch devices have been reported to have developed discoloration and residue buildup on the terminal pins located on the back. While completely safe and unlikely to affect charging, LG will be rolling out a maintenance release over the next few days that will disable the current when the G Watch is not in the charging dock. The maintenance release will be rolled out automatically over-the-air to all G Watch owners. We thank G Watch users for their patience and apologize for any inconvenience this may have caused.
[Take a look at Amazon's smartphone. See Amazon Fire: 5 Things Missing.]
With the charging pins turned off, users should no longer be at risk for discomfort or burns. LG will roll out the update over the air this week, but didn't say if it is making any other alterations to the G Watch, such as redesigning the pins on future models.
LG on Monday also announced the availability of its next-generation Android tablet, the G Pad 7.0. LG introduced the 7-incher and its larger siblings earlier this year. LG is selling the device with partner AT&T, and it is compatible with AT&T's LTE 4G network.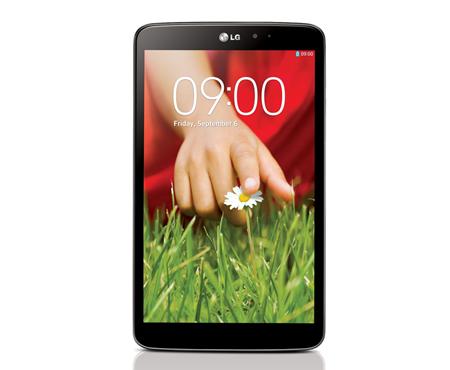 The LG G Pad 7.0 includes a high-def screen, 1.2 GHz quad-core Snapdragon processor, 5 megapixel camera, and 4,000 mAh battery, which provides 10 hours of active usage. The tablet weighs 10.4 ounces and runs Android 4.4 KitKat.
Beyond the specs, the G Pad includes a long list of LG's default apps and services. For example, owners can use Knock Code to create custom screen locks based on knocking patterns. QuickMemo lets owners take instant screen shots and scribble notes on the image for sharing. Dual Window supports two-app multitasking, with the apps running side-by-side. The G Pad also includes QSlide apps, which are tiny apps that run on top of other apps. They can be moved around the home screen and resized at will.
AT&T is offering the G Pad for 99 cents when bundled with an LG G2, LG G3, or LG G Flex smartphone. The G Pad costs $12.50 per month with zero down and no annual service with an AT&T Next plan, $150 with a two-year agreement, or $250 at full price. It will be available beginning August 8.
Cyber criminals wielding APTs have plenty of innovative techniques to evade network and endpoint defenses. It's scary stuff, and ignorance is definitely not bliss. How to fight back? Think security that's distributed, stratified, and adaptive. Get the Advanced Attacks Demand New Defenses report today. (Free registration required.)
Eric is a freelance writer for InformationWeek specializing in mobile technologies. View Full Bio
We welcome your comments on this topic on our social media channels, or
[contact us directly]
with questions about the site.