Moto X: Now Available In Bamboo
Want a more natural look to your smartphone? Motorola now offers bamboo among its customization options for the Moto X.
Motorola's wooden smartphone is finally here. After it first revealed the option in August, Motorola has added a bamboo backplate to the customization options for its Moto X.
One of the Moto X's key features is the ability to customize the device through an online tool called Moto Maker. Moto Maker launched with the Moto X in late August. Moto Maker lets prospective phone buyers select either a white or black front and pair it with more than a dozen different resin backplates. Users can then add custom accents, personal messages and wallpapers, and engravings. According to Motorola, more than 2,000 color combinations are possible with these tools, which let Moto X owners put their own stamp on the device.
When Motorola announced the Moto X, it showed off a handful of wooden backplates. The company said it was still researching the wooden backs but committed to releasing them before the end of the year. Among the initial options shown over the summer, bamboo is the first wooden backplate to reach Moto Maker. Motorola hasn't said if any of the other wooden backplates will be offered.
[Here are a few of our favorite apps. Read 10 Best Android Apps Of 2013.]
According to Motorola's engineers, wood's signal propagation properties differ from those of resin; hence the extra time in preparing it for Moto Maker. The wooden backplates have the same shape and contour that the resin does, though, and they fit snugly so as not to change the dimensions of the Moto X.
Pretty though the bamboo may be, it also costs a pretty penny. Motorola is charging a $100 premium over the standard cost of the Moto X. Currently the 16-GB model with bamboo will cost $199 and the 32-GB model will run $249 with a new two-year contract with one of the wireless network operators. Not interested in signing a contract? Unsubsidized, the bamboo models run $599 and $649 for the 16- and 32-GB models, respectively.
Motorola is unable to meet its four-day delivery promise with the bamboo backs. Most custom-made Moto X models are assembled in Ft. Worth, Texas, and are delivered to customers within four days. Right now, the bamboo models won't ship for at least nine days, according to Motorola's website.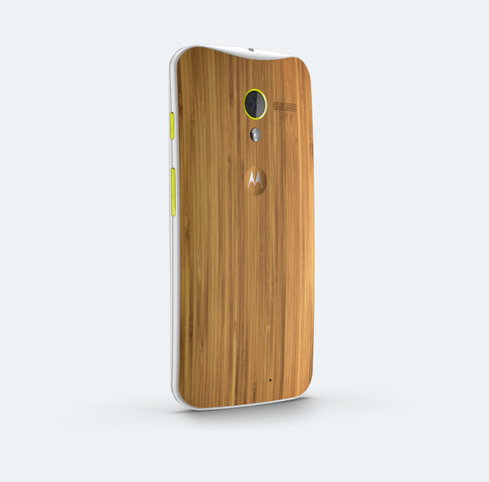 Aside from the customization options, the Moto X is a smartphone of middling quality. It has a 4.7-inch 720p screen; a 1.7-GHZ dual-core Snapdragon S4 Pro from Qualcomm with 2 GB of RAM; a 2200-mAh battery; and a 10/2-megapixel camera configuration. It can connect to most 3G/4G networks and offers dual-band WiFi, Bluetooth 4.0, NFC, and GPS.
The real appeal of the Moto X is the software. It offers active notifications on the display and a ramped-up version of Google Now called Touchless Control. Touchless Control lets users use voice commands to control their Moto X without first waking the device.
There's no single migration path to the next generation of enterprise communications and collaboration systems and services, and Enterprise Connect delivers what you need to evaluate all the options. Register today and learn about the full range of platforms, services and applications that comprise modern communications and collaboration systems. Register with code MPIWK and save $200 on the entire event and Tuesday-Thursday conference passes or for a Free Expo pass. It happens in Orlando, Fla., March 17-19.
We welcome your comments on this topic on our social media channels, or
[contact us directly]
with questions about the site.