No Reason To Buy A Tablet Anymore
The natural number of personal electronics devices is two: one in the pocket and one in the bag. Now, thanks to ever-larger smartphones and the latest 2-in-1 laptops, order is being restored.
When the first tablets bounded onto the scene four years ago, everyone wanted one. They sold quickly and immediately snagged our time and attention away from our smartphones and laptops. No wonder: They were more responsive than our laptops, and the no-keyboard design made them easier to read, watch videos, and scan social networks. The screens were much larger than our smartphones, so they were easier on the eyes and more pleasant to navigate. And every time we picked up our tablets, we were saving precious battery on our go-to devices.
It's a very different story today, however. Smartphones continue their ascension. And notebook PCs are resurgent. But after growing 52% in 2013, according to IDC, tablet shipments are expected to expand just 6.5% this year. Demand is even more anemic when you consider that a major growth driver this year is tablets that aren't even sold as tablets: low-cost 7-inch and 8-inch models with cellular capability. They're being billed as big, cheap smartphones for consumers in emerging markets.
What's happening here is that we're returning to what I call personal device equilibrium -- one in the pocket and one in the bag -- which is something I predicted would happen from the get-go. Consumers are finding that they just don't need tablets anymore, because ever-more capable smartphones and 2-in-1 notebooks are squeezing them out of their personal quivers.
The smartphone has been siphoning more of the tablet's load recently, for a couple reasons. First, smartphones are much easier to view for long periods than they were when the first iPad shipped in 2010, primarily because displays are much larger -- and growing larger still. Shipments of so-called phablets -- smartphones with displays measuring at least 5 inches -- are growing more than three times as fast as the overall market this year. Total units are now approaching tablet shipments. Apple, one of the last phablet holdouts, is expected to announce a 5.5-inch iPhone 6 on Sept. 9.
[What do you want to see from Apple next week? See 8 Things We Want In iPhone 6.]
Second, battery life is improving dramatically. Part of that is simply because vendors can fit a much larger battery into a smartphone with a larger display. But the suppliers are also paying more attention to power management because they understand that consumers want to rely on their smartphones more -- but only if they'll still have enough juice to take a call at the end of the day.
Battery life, in fact, has been one of the greatest areas of advancement in 2-in-1 notebooks -- and a big reason tablets aren't needed anymore. There was a big leap in battery life late last year -- at about the time tablet shipments began slowing, interestingly enough -- and another impressive boost is coming with the new fifth-generation Core M processors. The new chips boast twice the battery life with a battery only half as large as laptops that were selling when the first iPad arrived. And they run cool enough for PC makers to produce full-fledged 2-in-1 PCs that are as thin and quiet as traditional media tablets. The first of these systems will be unveiled Friday, ahead of the Intel Developer Forum.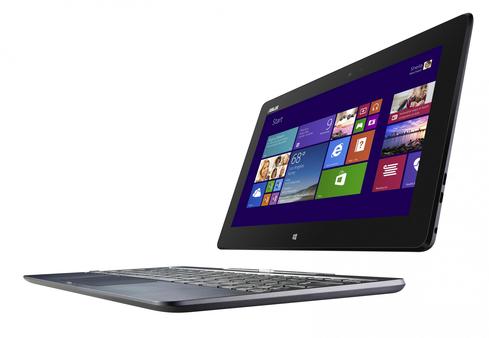 Some of the new 2-in-1s actually adopt the tablet form factor and come with detachable keyboards. I prefer a few of the hinged clamshell-type models that fold into what the PC makers call "tablet mode." It might be a little heavier and thicker than the tablet-first implementations. But I never have to worry about losing the keyboard or being without it when I need it. For many -- me included -- 12-inch and 13-inch 2-in-1s offer the best mix of tablet portability and productivity. I do know plenty of people who still prefer 15-inch displays, and there are 2-in-1s coming that fit the bill for them, too.
Travel tip: Airlines nowadays allow only smartphones and tablets to be used during taxi, takeoff, and landing. But I've found that as long as the keyboard is detached or tucked away, flight attendants won't stop you from using a 12-inch or 13-inch 2-in-1.
That's just another in a long list of reasons we don't need tablets anymore. Smartphones have picked up some of the slack. But the transformation in the laptop that's happened over the short life of tablets is truly amazing. Many of the new 2-in-1s are thinner than the disk drives inside a four-year-old laptop, with far more capability and battery life.
If you're reading this on a four-year-old laptop, then I don't have to tell you. You're living it. So you probably don't need a big incentive to go out and snag one of these sleek new systems. But just in case you do, consider this: There may not have been another four-year period in the history of the PC where it's changed so much.
Plus, if you've been saving up for tablet, there's another few hundred dollars you can put toward a 2-in-1. Because, as I've said, there's no reason to buy a tablet. Not anymore.
Interested in shuttling workloads between public and private cloud? Better make sure it's worth doing, because hybrid means rethinking how you manage compliance, identity, connectivity, and more. Get the new New Tactics Needed For Hybrid Cloud Security issue of InformationWeek Tech Digest today. (Free registration required.)
Mike Feibus is principal analyst at TechKnowledge Strategies, a Scottsdale, Ariz., market strategy and analysis firm focusing on mobile ecosystems and client technologies. You can reach him at [email protected] View Full Bio
We welcome your comments on this topic on our social media channels, or
[contact us directly]
with questions about the site.