7 Ways Wearables Will Go To Work
Smartwatches, smartglasses, smart ID badges, and activity trackers will all find a home in the enterprise and change how we do our jobs.
You're forgiven for feeling that wearable technology suffers from a hype bubble. As of today, most wearable tech categories – outside of fitness – boast a high number of products but a low number of buyers.
Looking past the hype, though, wearables represent the next logical step in the mobile revolution. If done right – with vigorous ecosystems of brands, retailers, healthcare providers, and even governments tapping into their value – wearables will create more efficient and seamless experiences for wearers.
[Smartwatches aren't the only promising wearables. Read 10 Wearables To Watch At CES 2014]
Many of these wearable scenarios will come about through a surprising channel – the enterprise. While most of the world focuses on consumer wearables, enterprises might offer an even bigger opportunity. Over the next few years, companies will experiment with wearables in both customer-facing and back-end work scenarios. Here's a look at seven ways wearables will enter the enterprise.
1. Wearables will become embedded in healthcare systems.
We're all familiar with the consumer fitness devices market. Companies like Fitbit, Nike, Jawbone, and Basis help people track their activity levels (and in some cases, their nutrition and sleep patterns) in the name of health. Those devices are sold to individual consumers, but perhaps a bigger opportunity lies in embedding them into the wider healthcare system. Fitlinxx does just that, working with insurance companies, hospitals, and corporate wellness programs to distribute its activity-tracking wearable along with software and tools to help employees use the devices effectively.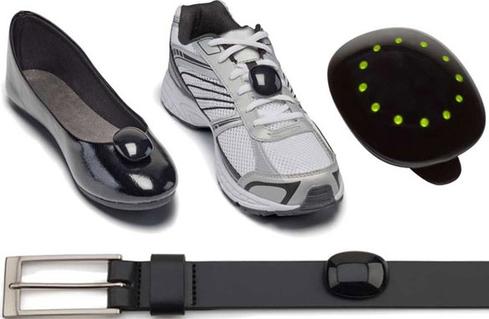 Doctors have access to the Fitlinxx data, which helps improve the chances of sustained health. And companies and employees that use wearable devices for healthcare may be eligible for lower insurance rates, too – another incentive.
2. Retailers will create innovative in-store experiences.
Imagine walking into a clothing store to find that the sales associate knows your name and greets you with two shirts that might interest you – in your own size and in your favorite colors. Or walking up to a 4K digital display that offers you an on-the-spot promotion.
These scenarios can be achieved through mobile phones interacting with in-store beacons, but they are better executed via smartwatches. Mobile phones can be stolen, or require repeated authentication by the user (even with biometric solutions like those on Apple's iPhone 5S). A smartwatch has the potential – as with Bionym's Nymi band – to create a secure, persistent authentication state so long as it's around the wearer's wrist. In other words, a user doesn't have to repeat sign-ins, enter passwords, or sign her name at point of purchase; she's known as herself so long as the band remains clasped. And Forrester's data shows that 28% of online U.S. consumers are interested in wrist-based wearables.
3. Field service workers will become more productive.
Head-mounted cameras like Vidcie by Looxcie or cameras embedded into smartglasses solve problems specific to technical field work. Real-time video-based collaboration means that a field worker can solicit and receive coaching from peers via live videoconferencing to help fix the problem without the need for repeat visits to a site. For instance, when a cable technician visits a home to fix a broken Internet line, he's more likely to be able to fix it on the spot rather than making the homeowner schedule a second visit. The cable company enjoys more productive technicians and customers don't have to deal with irksome scheduling.
4. Wearables will revolutionize warehousing and logistics.
Hands-free technologies particularly benefit employees working in warehouses or in logistics positions. Smartglasses allow them to use their hands to lift boxes and packages while gaining access to location data such as where to place the box within a large warehouse, or navigation data for delivering a package.
5. Management will employ wearables to keep tabs on employee collaboration.
Some might find this a bit "Big Brother," but wearables can also be used by corporate management. Sociometric Solutions provides smart ID badges with a twist — they track employees' locations within the office and use the data to determine levels of collaboration with peers. An employee can log into a system to learn that he needs to increase his collaboration to hit benchmarks of other employees in roles similar to his. Management can see only aggregate patterns – looking at the data by role, for example, to see what the average data for a salesperson looks like – but can use information and insights from those patterns to change policies such as introducing more training, reorganizing offices to encourage collaboration, or introducing collaboration technologies into the workplace.
6. Brands will give wearables to their customers.
Disney offers MagicBand wearables to its resort guests. The wrist devices authenticate visitors for entry into rides, hotels, and restaurants — even acting as a payment agent. The result for customers? Shorter lines and wait times, and a wallet-free visit to the park.
7. Employees will bring their own wearable devices to work.
While company-purchased devices will play an important role in many of the scenarios mentioned above, the power of bring your own device (BYOD) hasn't waned. As consumers discover the value of wearables, technology managers can expect to see employees bringing smartwatches, smartglasses, and other wearables into the workplace. The good news? For some of these wearables, existing practices for smartphones and tablets (like the use of mobile device management services) can be adjusted to accommodate new wearable devices.
J.P. Gownder is a VP and Principal Analyst at Forrester Research. Follow him on Twitter: @jgownder and read his blog.
IT is turbocharging BYOD, but mobile security practices lag behind the growing risk. Also in the Mobile Security issue of InformationWeek: These seven factors are shaping the future of identity as we transition to a digital world. (Free registration required.)
We welcome your comments on this topic on our social media channels, or
[contact us directly]
with questions about the site.