Amazon's Discounted Smartphone Stunt: Don't Fall For It
Amazon will knock $50 off the price of select phones in exchange for viewing ads on the lock screen. Don't do it. You'll be better off paying the extra cash.
Amazon Wednesday excitedly announced "exclusive pricing" on certain smartphones for Amazon Prime members. The company will sell a pair of phones for $50 off the list price, but there's a huge and ridiculous catch: You'll have to let Amazon turn your phone's lock screen into a billboard for various ads and offers.
The offer applies to two phones to start, the fourth-generation Motorola Moto G and the Blu R1 HD. The Moto G normally costs $199, but Amazon will sell it to Prime members for $149. The Blu R1 HD costs $99, but Prime members can snag it for $49. The phones are available for preorder beginning today, but won't ship until July 12. They are sold unlocked, without carrier contracts.
The market for unlocked handsets is on the way up and Amazon is apparently looking to cash in.
"Customers love the freedom of unlocked phones -- it's the fastest growing category within cell phones on Amazon.com -- so we set out to find a way to make them even more affordable for our Prime members," Laura Orvidas, VP for consumer electronics at Amazon.com said in a statement announcing the offer. Unlocked phones let people switch between wireless carriers and service plans with more flexibility.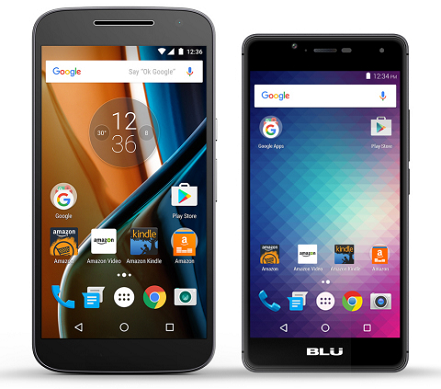 Amazon says the "breakthrough pricing" is supported by personalized offers and ads, such as deals and product recommendations. The ads will show up on the lock screen, where owners can tap to learn more or unlock their phone to dismiss the ad.
This type of offer is already in place for Amazon's Kindle e-readers and Fire tablets. The company claims the "vast majority of customers choose the lower-priced [ad-supported] option." That may be true, but smartphones are not tablets or e-readers, and Amazon is ignoring one of the primary benefits of purchasing unlocked handsets.
Apart from the freedom granted by unlocked phones, many consumers choose them over carrier-branded phones in order to avoid bloatware and other garbage apps. The landing page for both the Moto G and Blu R1 HD both clearly show an abundance of Amazon-branded apps preinstalled on the phones.
The likelihood that Amazon will allow people to delete the Amazon-branded apps is small. Moreover, the ads can't be skipped and will appear every single time you unlock the phone. That doesn't sound like freedom to me.
[See Microsoft's Mobile Roller Coaster Ride: 9 Contributing Factors.]
Moreover, Amazon hasn't explained if or how the ads will impact battery life. Will the ads only appear when the screen is turned on, or will they light up at random? Either way, the time it takes people to dismiss the ads will use battery power (even if only a little bit). Battery life is far more critical on smartphones than it is on tablets and e-readers.
(Editor's Note: After this story was posted, an Amazon spokesperson later explained to us in more detail how the lock screen ads work. "The ads only appear when you hit the side button to wake up the phone," the spokesperson said. In other words, the ads will not wake the screen all by themselves. According to the spokesperson, "If you have personal notifications, it'll be the same size as those and [appear] at the bottom of the list. If you don't [have notifications], then it'll be the screen size. When you swipe to unlock, the ad goes away.")
Last, the economics just don't add up. A Prime membership costs $99 per year. This is mandatory in order to receive the $50 discount on the phones. Prime subscribers are probably not destitute people who need to save every dollar they can.
Unlocked smartphones are often inexpensive. Don't let the allure of saving $50 trick you into viewing Amazon ads each and every time you pick up your phone -- something researchers say we do 150 times per day.
Eric is a freelance writer for InformationWeek specializing in mobile technologies. View Full Bio
We welcome your comments on this topic on our social media channels, or
[contact us directly]
with questions about the site.