Apple Reports Record Q1 Results, Predicts iPhone Decline
Apple reported $18.4 billion in profit during its first fiscal quarter of 2016, but iPhone sales are predicted to drop in coming months.
Apple had its most profitable quarter to date in Q1 2016, but there's trouble brewing in Cupertino. iPhone sales, which drove this quarter's success, are predicted to tumble for the first time.
In its Jan. 26 earnings release, the tech giant announced $18.4 billion in quarterly profit and $75.9 billion in quarterly revenue. This marks little change from Apple's Q1 2015, when the company reported $18 billion in profit and $74.6 billion in revenue.
CEO Tim Cook acknowledged the effects of turbulent global markets on economic growth. In constant currency, growth would have been 8%, or about $80.8 billion, he said.
[ More on Apple: details emerge on the iPhone 5se and iPad Air 3. ]
Global economies have a significant affect on Apple's financial results, as two-thirds of the company's revenue is now generated outside the US, Cook explained.
Earnings for the first quarter were primarily driven by record sales for iPhone, Services, Apple TV, and expanded distribution of Apple Watch. iPhone sales hit 74.8 million units during the most recent quarter, an all-time high, but an increase of less than 1% from 74.5 million in the same period one year ago.
While iPhone unit sales were slightly up, numbers were down for most of Apple's hardware. iPad sales fell from 21.4 million units in Q1 2015 to 16.1 million in Q1 2016.
Apple set a quarterly record for Apple Watch sales and expanded distribution to 12,000 locations. The Watch falls under the "other products" category, along with hardware such as Apple TV and Beats accessories. This category pulled in $4.4 billion, an increase of 62% year-over-year (specific Watch numbers were not released).
Mac sales also declined, from 5.5 million units in Q1 2015 to 5.3 million for the most recent fiscal quarter. Mac sales in China, which increased 21% year-over-year, helped bolster the quarter.
Services generated $6.1 billion in revenue, which includes money from a patent lawsuit. Excluding the lawsuit, this amounts to about $5.5 billion, an increase of 15% year over year.
Apple's installed base of hardware has grown 25% year over year, driving the company to 1 billion active devices for the first time. This includes iPhone, iPad, Mac, Apple TV, Apple Watch, and iPod Touch devices that have been engaged with Apple services within the previous 90 days.
During its most recent quarter, the company earned $8.9 billion from installed base services. Apps played a major role in driving services revenue, with App Store revenue up 27%. The number of customers engaging in App Store transactions has grown 18% since the same period a year ago.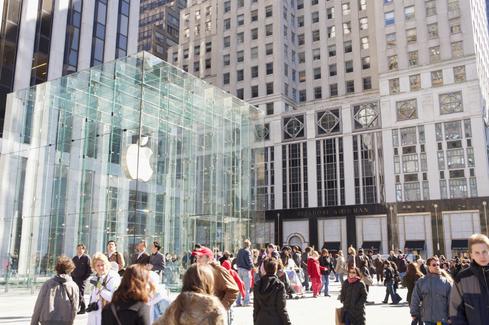 Looking ahead, it's expected Q2 2016 will be the most difficult quarter yet for Apple. Revenue is expected to hit between $50 billion and $53 billion, with a wider range due to volatility in the economy and financial markets.
In constant currency, this prediction would indicate a 5%-10% drop in revenue, explained Apple CFO Luca Maestri. For comparison purposes, Cupertino reported $58 billion in revenue for Q2 2015.
The coming months will also bring lower smartphone sales for Apple. "We do think that iPhone units will decline," said Cook of the next quarter.
One of the measures Apple has taken to minimize the effect of global economies has been increasing product prices in select international markets. Higher prices will likely influence demand, which Apple has factored into its expected results.
Does your company offer the most rewarding place to work in IT? Do you know of an organization that stands out from the pack when it comes to how IT workers are treated? Make your voice heard. Submit your entry now for InformationWeek's People's Choice Award. Full details and a submission form can be found here.
Kelly Sheridan is the Staff Editor at Dark Reading, where she focuses on cybersecurity news and analysis. She is a business technology journalist who previously reported for InformationWeek, where she covered Microsoft, and Insurance & Technology, where she covered financial ... View Full Bio
We welcome your comments on this topic on our social media channels, or
[contact us directly]
with questions about the site.