Fitness Bands Lead Wearables During First Quarter
Smartwatches account for only one quarter of wearables shipped during the first three months of the year, according to IDC. Can the Apple Watch change that?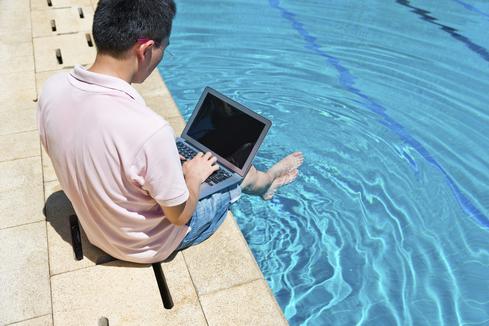 Apple Watch, Sony Xperia Z3 And Other Hot Summer Gadgets
(Click image for larger view and slideshow.)
Wearables marked their eighth consecutive quarter of growth during the first three months of the year, with fitness bands and other simple wearables leading the way. Smartwatches account for at most 25% of wearable shipments. Will the Apple Watch change that?
Wearable makers shipped 11.4 million devices during the first quarter, according to IDC. That number reflects a 200% increase from the 3.8 million devices shipping during the same period in 2014.
Fitbit ranked as the number one wearable maker by volume. It shipped 3.9 million devices, giving it 34.2% of the market. Xiaomi followed with 2.8 million devices and 26.4% of the market. Garmin rounds out the top three with 700,000 devices and 6.1% of the market.
All three companies make low-cost devices (~$100) meant to help track health and fitness.
"Bucking the post-holiday decline normally associated with the first quarter is a strong sign for the wearables market," Ramon Llamas, and IDC research manager for wearables, wrote in the June 2 report. "It demonstrates growing end-user interest and the vendors' ability to deliver a diversity of devices and experiences. In addition, demand from emerging markets is on the rise and vendors are eager to meet these new opportunities."
Smartwatches didn't make much of an impact in shipments.
[Read about the growing IoT market.]
Samsung managed to rank fourth in the overall standings with 600,000 devices and 5.3% of the market, but not all its devices are smartwatches. IDC believes Samsung might have sold more devices if the wearables were compatible with a broader range of Samsung's handsets. Samsung limited compatibility of the Tizen-powered Gear, Gear 2, Gear Fit, Gear 2 Neo, and Gear S to its high-end smartphones.
Jawbone placed fifth with 500,000 devices and 4.4% of the market. IDC says "others" combined to ship 2.9 million devices.
Together, fitness bands accounted for 75% of all wearables shipped during the first quarter. That means Motorola, LG, and others shipped just 2.8 million smartwatches.
"What remains to be seen is how Apple's arrival will change the landscape," added Llamas. "The Apple Watch will likely become the device that other wearables will be measured against, fairly or not. This will force the competition to up their game in order to stay on the leading edge of the market."
Indeed, Google has stepped up its game and introduced a new version of the Android Wear platform. The revised software is easier to use and adds more features, like remote music playback and support for WiFi. LG recently debuted the Watch Urbane, a high-end smartwatch meant to appeal to the fashion conscious. Asus showed off a new ZenWatch.
Lenovo showed off a smartwatch with two screens.
The market is still anxiously waiting to see what Motorola does next with its 360 smartwatch.
The Apple Watch is off to an unknown start. Executives have been coy about sales, only saying the product is doing well. The Apple Watch has helped raised the profile of all smartwatches, but with first-quarter shipments at just 11.4 million the market for wearables has a long way to go.
Eric is a freelance writer for InformationWeek specializing in mobile technologies. View Full Bio
We welcome your comments on this topic on our social media channels, or
[contact us directly]
with questions about the site.