Google Chrome OS On A Stick
The latest Chrome devices are more affordable than ever, and more varied in their form factors.
Google on Tuesday announced two budget-friendly Chromebooks, a convertible Chromebook that folds into something like a tablet, and a Chrome device that's more stick than book.
In a blog post, Google engineer Katie Roberts-Hoffman described the Haier Chromebook 11, available for pre-order from Amazon, and the Hisense Chromebook, available for pre-order from Walmart, as devices that manage to be fast and affordable.
Priced at $149, the Haier and Hisense Chromebooks are among the most affordable notebooks at the moment. That moment may not last very long, as Microsoft is said to be preparing Windows 10 notebooks for less than $150.
The primary technical specifications of the Haier and Hisense Chromebooks are essentially identical:
11.6" screen
1.8GHz Rockchip 3288 quad-core processor
ARM Mali 760 quad-core graphics
2GB RAM
16GB eMMC Flash storage
The Haier boasts 10 hours of battery life, while the Hisense advertises only 8.5 hours of battery life. Each offers a 720p webcam, 802.11ac WiFi, one HDMI and two USB 2.0 ports, an SD card slot, and Bluetooth 4.0.
[ Want to check out more cool innovative ideas? Read 8 Google Projects To Watch In 2015. ]
Google also added the ASUS Chromebook Flip to its Chrome device portfolio. Like the Lenovo Chromebook N20p, the $249 ASUS Chromebook Flip can open more than 180 degrees, allowing the keyboard to rest keys-down to encourage touchscreen interaction and passive viewing. But the Flip can open further still, almost 360 degrees, to turn the device into an approximation of a Chrome OS tablet.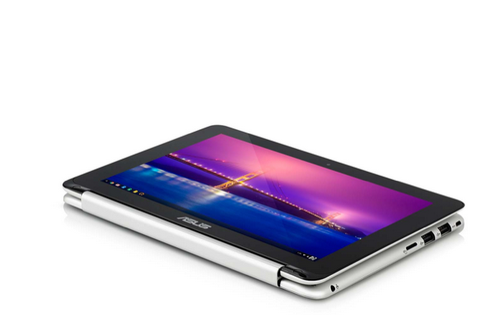 The ASUS Chromebook Flip, available later this spring, sports a 10.1" screen, a 1.8GHz Rockchip 3288 quad-core processor, ARM Mali 760 quad-core graphics, 2GB or 4GB RAM, and and 16GB eMMC Flash storage. It also includes a 720p webcam, 802.11ac WiFi, one HDMI and two USB 2.0 ports, an SD card slot, and Bluetooth 4.0.
Finally, Google said that ASUS this summer plans to launch a new type of Chrome device: the Chromebit, an HDMI-stick running Chrome OS that can turn a display into an Internet-connected computer. Similar to a Chromebox, but smaller and without the extra ports, the Chromebit will sell for under $100. It may end up competing with the $129 Dell Wyse Cloud Connect stick, which runs Android.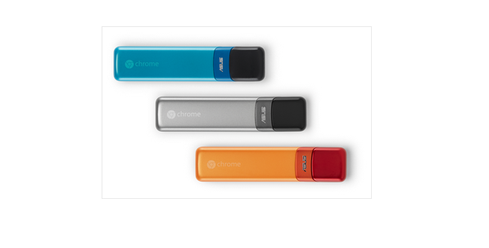 Research firm NPD estimated that Chromebooks accounted for 14% of laptops sold through US commercial and retail channels last year, up from 8% in 2013. According to Forrester, Chromebooks represented 3.1% of US enterprise laptops in use in 2014.
Forrester analyst David Johnson said in a phone interview that Chromebooks have been doing well among educational institutions and other resource-constrained organizations that need devices to be affordable and simple to use and manage. He said the low price point of the Haier and Hisense Chromebooks should be attractive to buyers in China, India, and Latin America.
Johnson said Forrester clients have expressed interest in Chromebooks for contract workers because the devices are easy to set up, manage, and integrate with enterprise systems. Microsoft helped make Chromebooks more viable for workers with light productivity needs last year, when it launched versions of Office Online apps in the Chrome Web Store.
Google sells a luxury Chromebook, too: In early March, it launched the second iteration of its high-end Chromebook Pixel for $999, $300 less than the device's first incarnation.
Attend Interop Las Vegas, the leading independent technology conference and expo series designed to inspire, inform, and connect the world's IT community. In 2015, look for all new programs, networking opportunities, and classes that will help you set your organization's IT action plan. It happens April 27 to May 1. Register with Discount Code MPOIWK for $200 off Total Access & Conference Passes.
Thomas Claburn has been writing about business and technology since 1996, for publications such as New Architect, PC Computing, InformationWeek, Salon, Wired, and Ziff Davis Smart Business. Before that, he worked in film and television, having earned a not particularly useful ... View Full Bio
We welcome your comments on this topic on our social media channels, or
[contact us directly]
with questions about the site.