Microsoft Surface Pro 3: Why To Buy
Microsoft's Surface Pro 3 is finally available. But just because you can replace your laptop with the Surface Pro 3 doesn't mean everyone will want to.
If you've read any reviews of Microsoft's Surface Pro 3 -- mine included -- you've likely been told it's a device that will appeal to some people, but not to everyone. This raises a question: How are you supposed to know which group you're in?
It's difficult to answer, because there are two distinct angles from which would-be buyers can approach Microsoft's new tablet, which hit stores Friday. Some think of the Pro 3 in terms of other devices. They might ask how it competes as a laptop with the MacBook Air, or whether it's as good a tablet as an iPad. Others look beyond comparisons, because the new Surface is unlike any other device currently available.
[Want to see more on the Surface Pro 3? See Microsoft Surface Pro 3: Visual Tour.]
I'll get to the latter group in a minute, but suffice it to say that, for certain jobs and work styles, the Pro 3's unique traits could be transformative. The former group, which I'll tackle first, is trickier.
Microsoft calls the Pro 3 the tablet that can replace a laptop, which is fair. Thin, light, fairly powerful, and more ergonomically polished than any of its predecessors (if not than any other 2-in-1), the Pro 3 is undeniably a nice laptop. When using earlier Surfaces, I never forgot that I was using a small, cramped, and compromised laptop. With the Pro 3, I don't feel these distractions. I can just work.
But just because you can replace your laptop with the Surface Pro 3 doesn't mean everyone will want to. The device's kickstand-based stability didn't bother me, but the approach is still fundamentally different from the clamshell designs most of us are used to. The difference is minute if you work at a desk, but whether you'll like balancing the Pro 3 on your lap is more subjective.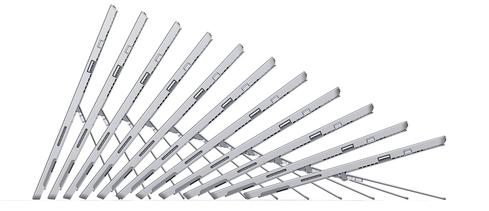 The Surface Pro 3's design makes it thinner and lighter than any comparably powerful alternatives, but it's not like many people have criticized the newest Ultrabooks -- let alone the MacBook Air -- as being too thick and heavy. Eventually, thinness hits a point of diminishing returns. Depending on your budget and needs, the Pro 3 might be past that point. Moreover, even if you prioritize sleek form factors, the market will be flush by early next year with even thinner, lighter devices, thanks to Intel's next-generation Broadwell processors.
Ultimately, if someone were to say the Surface Pro 3 is one the best laptops available, I wouldn't quibble -- which is saying something. If anyone tried to similarly lionize the Surface Pro or Surface Pro 2, I'd have called that person crazy. But if people were to say the Pro 3 simply didn't "click" with their needs, I wouldn't quibble with that, either -- especially given the Surface's price.
As a tablet, meanwhile, the Pro 3 is a different animal from an iPad. That hasn't stopped Microsoft execs from making the comparison; when the new Surface was introduced, Microsoft corporate vice president Panos Panay repeatedly juxtaposed it with a MacBook Air and an iPad, implying that the Pro 3 could replace both. This might be true for individual users, but on the whole, it's wishful thinking on Microsoft's part.
Sure, the Pro 3 overlaps in places with the iPad Air, but the devices handle differently and are good at different things. It's easy to draw equivalencies between them now that Office is available on iPads, but from apps to OS to ergonomics, the devices aren't interchangeable. I could see someone owning a Surface Pro 3 in addition to an iPad, but I'm skeptical that the former is truly a replacement for the latter.
But as I mentioned previously, there's more than one way to approach the Surface Pro 3. Compare it to devices you already know and like, and you'll probably find shortcomings. But think of its unique qualities, and you might find new ways of doing things.
The Surface Pro Pen, for example, creates a new category of tablet experience. Yes, iPads have more apps, and yes,
some of them let you use your finger to draw on the screen -- but writing on the Pro 3 is in another league, almost like applying a pen on a pad of paper. That might not excite people who spend most of their time looking at spreadsheets or typing code on a keyboard, but for others, it's a blockbuster feature.
When the Pro 3 was introduced, for example, Microsoft previewed a pen-optimized version of Final Draft, one of the leading screenwriting programs. Many Hollywood jobs, from mailroom internships to studio leadership positions, involve heavy script-reading duties. Today, many script people share notes by tediously applying digital annotations on a PC, or by printing out a forest's worth of physical copies, marking them up by hand, and typing up summaries. With the Pro 3 and Final Draft, they'll be able to write notes directly on the screen and share with collaborators without printing a page.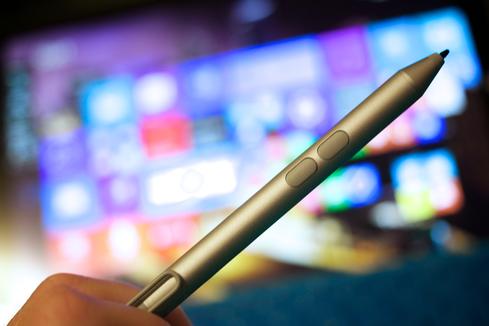 Doctors can use the pen to take notes while doing rounds, and to draw on diagrams to help patients understand concepts. Moreover, they can flip into laptop mode to input new information, saving them the time of running back to a PC station. Given the potential for better patient interaction, faster turnaround times, and greater overall productivity, it's no surprise that medical institutions such as Seattle Children's Hospital and Pittsburgh's UPMC are among the early Pro 3 customers.
Sales reps can use the Pro in almost the same ways doctors can -- as not only a laptop, but also a highly portable note-taking and presentation tool. If you're the on-the-go type, meanwhile, the device makes it much easier to capture spontaneous inspiration. By pressing a button on the pen, you can wake the Pro 3 directly into OneNote, enabling you to jot down an idea quickly before you get distracted. Handwritten notes can also be converted to text, which, like the deep OneNote integration, eases the transition between pen and laptop modes. If you're constantly running between meetings or dashing from one cab to the next, it's a unique and useful combination of assets, even if it doesn't come with a clamshell form factor.
So where does that leave you as a would-be buyer? If you're looking for a device that will build on your current workflows, the Pro 3 will be hit and miss. But if you're looking for a device that can enable new ways of working, it warrants a serious look.
InformationWeek's new Must Reads is a compendium of our best recent coverage of the Internet of Things. Find out the way in which an aging workforce will drive progress on the Internet of Things, why the IoT isn't as scary as some folks seem to think, how connected machines will change the supply chain, and more (free registration required).
Michael Endler joined InformationWeek as an associate editor in 2012. He previously worked in talent representation in the entertainment industry, as a freelance copywriter and photojournalist, and as a teacher. Michael earned a BA in English from Stanford University in 2005 ... View Full Bio
We welcome your comments on this topic on our social media channels, or
[contact us directly]
with questions about the site.