Nokia X, Android & Microsoft: 6 Facts
Nokia launched Android-based smartphones Monday at Mobile World Congress. Take a closer look at what this means for Microsoft's mobile future.
Nokia announced Android-based smartphones Monday at Mobile World Congress. Such a move had been rumored for months, but many commentators wondered if the alleged project would survive Nokia's impending absorption into Microsoft, which bought the company's device business last September for $7.2 billion.
Despite all the speculation, Nokia's announcement didn't reconcile neatly with all expectations. For starters, the new phones' Android-based Nokia X operating system bears little resemblance to the Android UI most users know. It also doesn't include access to the Google Play store. And that's not to mention the obvious complexities Nokia X presents for Microsoft's Windows Phone messaging.
[What's next for Microsoft Office? Read Microsoft Office For iPad: Do It Right.]
Nevertheless, this move could be the pragmatic approach Microsoft needs to establish itself as a legitimate mobile player. Here are six things to know about Nokia's new smartphone platform.
1. What is Nokia X?
The Nokia X platform is built on top of the Android Open Source Project (AOSP). Unlike Google Mobile Services, the program under which most of the highly regarded Android devices are built, AOSP doesn't require that devices meet certain base specifications. But by opting for AOSP, Nokia loses access to services such as the Google Play app store.
Even without the app store, Nokia X can still run Android apps, however (see below). Its custom UI also includes nods to both Windows Phone, whose tile-based interface is mimicked in the Nokia X home screen, and Nokia's Asha, whose Fastlane apps populate a second screen. Nokia X will come preinstalled with Microsoft services such as Skype and OneDrive, as well as popular Nokia apps, such as its Pandora-like Mix Radio.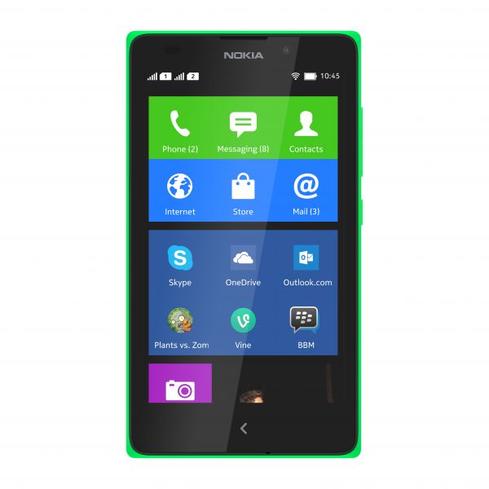 2. Will Nokia X run Android apps?
Despite lacking Google Play support, Nokia X will support Android apps. Nokia claims most Android titles can be published to the Nokia Store without modification. If an app requires tweaks, the company says its Nokia X analyzer tool can reduce porting time by identifying required changes. In addition to claiming Nokia X provides developers with access to high-growth audiences, the company also touted its mobile operator billing network, which includes 160 operators in more than 60 markets, as an appeal for app makers.
3. Which devices will run Nokia X?
Nokia announced three smartphones alongside its new platform: the X, X+, and XL. The X and X+ each have a four-inch 800x480-pixel touch screen display, a 3-megapixel rear-facing camera, and 4 GB of storage. The X has 512 MB of RAM while the X+ has 768 MB plus an SD card slot that can be used to sideload apps. The X is available immediately for €89, or around $122. The X+ will hit the market in Q2 for €99 (about $136).
As its name might imply, the XL has a larger screen -- 5 inches. That said, it has the same 800 x 480-pixel resolution as the other models, offering a
mediocre pixel density of 187 ppi. It includes 768 MB of RAM, 4 GB of storage, a 2-megapixel front-facing camera, and a 5-megapixel rear-facing camera. It will debut in Q2 for €109 (around $150).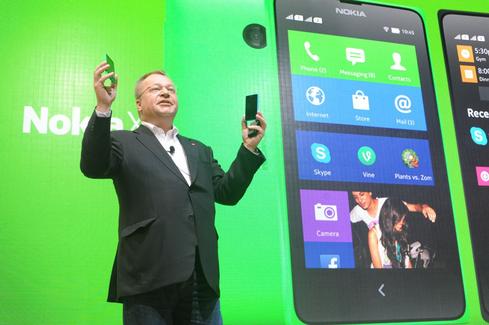 4. Who are the Nokia X devices for?
As the new devices' modest specs might imply, they're not aimed at current iPhone and Samsung Galaxy users. The premium market offers relatively little growth opportunity and formidable competition, but demand for budget devices in emerging countries remains strong. Nokia CEO Stephen Elop, who will soon join Microsoft to oversee its device efforts, explicitly said the Nokia X line targets this latter group. In fact, the phone might not be available in saturated markets such as the United States. Nokia announced plans to distribute the phone only in parts of Asia, Europe, India, Latin America, the Middle East, and Africa.
5. How does this affect Microsoft and Windows Phone?
Some have viewed the Nokia X platform as the company's last hurrah as an independent company. Others have said Nokia, maker of the majority of Windows Phone handsets, is denigrating Microsoft's smartphone platform by embracing Android. While both interpretations have some merit, it's important to remember that Elop will transition to Microsoft along with his company's hardware teams. It would be illogical for him to introduce a platform that could subvert the products for which he'll soon be responsible.
Elop said as much during remarks at Mobile World Congress, pointing out that while most Android devices lead users to Google's cloud, Nokia X delivers them to Microsoft's. As he described it, the new platform is a "feeder system"; it will attract first-time smartphone buyers, who, after becoming accustomed to Microsoft's services, will eventually upgrade to higher-margin Lumia handsets that run Windows Phone 8. Elop also said the Lumia line remains Nokia's priority.
With new CEO Satya Nadella still settling in, Microsoft is in a time of flux, of course, and we don't know whether the company will support Nokia X over the long term. Microsoft corporate VP Joe Belfiore played it coy at MWC, where the company confirmed spring updates for both Windows 8.1 and Windows Phone 8.1. "They'll do some things we're excited about, and some things we're less excited about," he said of Nokia's last days as a standalone company.
Carolina Milanesi, director of insight at Kantar Worldpanel, sees Nokia X's potential to help Microsoft. Milanesi provided live commentary over Twitter during Nokia's MWC presentation, noting that if Microsoft chooses not to kill the Nokia X family, "it will show we have a new [Microsoft] that [puts] ecosystem first."
She said Elop's promise that Nokia X would connect and empower people in a mobile-first, cloud-first world is "totally on message with Nadella and [Microsoft's] bigger picture."
6. What about smartphone customers in developed markets?
Nokia X might help Microsoft pursue emerging markets, but the company also has plans for customers in more lucrative and mature areas. The aforementioned Windows Phone update, for example, was announced alongside nine new Windows Phone partners, including major OEMs such as Lenovo and LG. Belfiore didn't dive into many of the update's new features, but reports suggest Windows Phone 8.1 will gain, among other things, a notification center and Cortana, a rumored competitor to the iPhone's Siri. Reports also say Microsoft, in a move that would further complicate its relationship with Nokia X, might open Windows Phone, and perhaps even Windows 8.1, to Android apps.
Engage with Oracle president Mark Hurd, NFL CIO Michelle McKenna-Doyle, General Motors CIO Randy Mott, Box founder Aaron Levie, UPMC CIO Dan Drawbaugh, GE Power CIO Jim Fowler, and other leaders of the Digital Business movement at the InformationWeek Conference and Elite 100 Awards Ceremony, to be held in conjunction with Interop in Las Vegas, March 31 to April 1, 2014. See the full agenda here.
Michael Endler joined InformationWeek as an associate editor in 2012. He previously worked in talent representation in the entertainment industry, as a freelance copywriter and photojournalist, and as a teacher. Michael earned a BA in English from Stanford University in 2005 ... View Full Bio
We welcome your comments on this topic on our social media channels, or
[contact us directly]
with questions about the site.