Smartwatches, Ultra-Thin Notebooks, Odd IoT: Gadgets For Spring
You've heard all about the Apple Watch and Samsung Galaxy S6. But what else is new in the gadgetverse?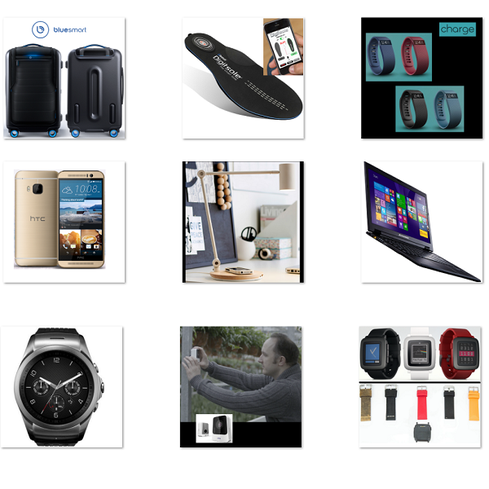 New Season, New Gear
What's on your gadget wish-list this spring?
In recent weeks, much of the tech world's attention has focused on the Apple Watch, which, after months of pre-launch rumors, speculation, and hype, will finally arrive April 24. Ranging from $350 (sort of affordable) to $17,000 (a one-percenter's splurge), Apple's first foray into the smartwatch market still seems oddly mysterious, perhaps because the gadget's practical value to consumer and enterprise users won't become clear until real-world testing gets underway.
The initial assortment of Apple Watch apps is, more or less, made up of smartphone exports -- the sorts of things you could easily do with your iPhone -- and lack the killer-app appeal that wrist wearables need to go mainstream. To be fair, the same criticism applies to other smartwatches too.
Samsung's latest pair of flagship phones, the Galaxy S6 and S6 Edge, are drawing a lot of buzz as well.
The Edge, with its dual curved screens that show information even when the main display is off, is the cooler of the two. Preorders look strong -- in the 20 million range, reports claim. That's good news for Samsung, which needs a hit after lackluster sales of the Galaxy S5, which has fallen far short of its original shipment projections.
What else is new in the gadgetverse? Quite a lot, actually. The tech industry is counting on wearable computing to spur growth, particularly as sales of smartphones and tablets slow -- or even decline, as in the case of the iPad -- in developed regions. Market research firm IDC projects that worldwide shipments of tablets will reach 234.5 million units this year, a slim 2.1% increase over 2014.
People often think of wristbands and headgear (like Google Glass) when "wearable computing" comes to mind, but the genre is veering off into novel implementations, such as sensor-equipped clothing. In healthcare, for instance, the market for wearables could be significantly larger than for fitness, totaling "hundreds of billions of dollars in annual sales," wrote TechKnowledge Strategies analyst Mike Feibus for InformationWeek in November.
Which raises the question: Will wearables and related gizmos find greater success as specific-use devices, or will multi-use gadgets like the Apple Watch rule the day? We don't answer the questions on the following pages -- it's far too early to make the call -- but we do provide a peek at what's coming from gadget makers this year.
Jeff Bertolucci is a technology journalist in Los Angeles who writes mostly for Kiplinger's Personal Finance, The Saturday Evening Post, and InformationWeek. View Full Bio
We welcome your comments on this topic on our social media channels, or
[contact us directly]
with questions about the site.