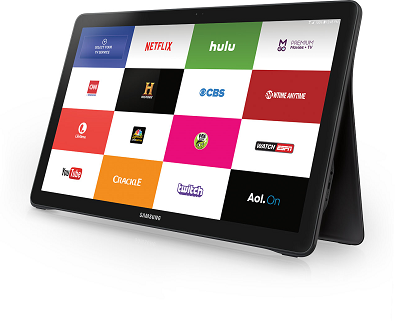 Samsung Galaxy View Review: A Big Tablet With Big Problems
(Click image for larger view and slideshow.)
Days before the official unveiling, a Samsung-owned website in Indonesia revealed a significant detail about the Galaxy S7 -- the phone will be water resistant, if not waterproof.
The video is a promotional spot for Indonesia's competitive archer Dellie Threesyadinda. It shows Threesyadinda training for an event. In one sequence she's running through a forest with the phone strapped to her arm during a light drizzle. In another, she's analyzing her performance, holding the phone in her hand while rain drenches it.
She seems unfazed by any thought of damage the rain could be doing to her exposed phone. The scene strongly suggests the device is protected from falling water. (Seriously, there's a close-up of the phone getting soaked.)
Based on the sieve-like security over at Samsung, we already have a fairly clear picture of the Galaxy S7. It will look much like the Galaxy S6. This is important to point out because the Galaxy S6 was not waterproof, or even water resistant. That means Samsung made some significant internal changes. The 2014-era Galaxy S5 was water resistant, but that phone was made of plastic, not metal.
What we don't know is how Samsung improved the GS7 to make it water resistant. It could be following the same path Motorola has trodden for years -- spraying the innards with a sealant to ward off damage. This method would make the device resistant to rain, sweat, and spills, but not necessarily to immersion into water or other liquid. The promotional video did not show the GS7 getting dunked in a pool.
We asked for the phone to be water resistant in our wish list for the GS7, so it appears at least one wish has been granted. However, Samsung's track record with waterproof phones isn't the best.
The GS5 was water resistant, but the company has released at least three sturdier Galaxy S variants called the Galaxy S4 Active, S5 Active, and S6 Active. These phones have gaskets, hatches, and other, physical preventative features to keep water out. Even so, the GS4 and the GS5 weren't as waterproof as Samsung claimed.
[Read iPhone 7 Vs. Galaxy S7: Comparing Smartphone Rumors.]
Bottom line: The Galaxy S7 may be resistant to some types of ingress, but your best bet still is to keep it clear of water.
Samsung has a large event planned for Sunday, Feb. 21, during which the company is expected to show off the Galaxy S7 in full. InformationWeek will be on hand to provide live coverage of the news.
Are you an IT Hero? Do you know someone who is? Submit your entry now for InformationWeek's IT Hero Award. Full details and a submission form can be found here.