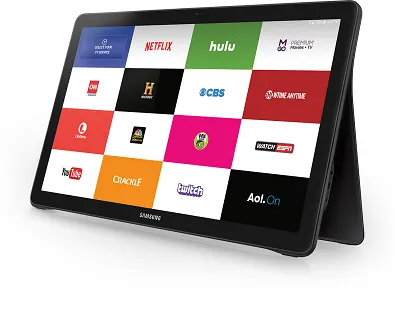 Samsung Galaxy View Review: A Big Tablet With Big Problems
(Click image for larger view and slideshow.)
Samsung laid bare its smartphone strategy amidst its fourth quarter earnings report. The world's largest maker of smartphones by volume essentially plans to reverse the course it set a couple of years ago. The company said it will diversify its handset portfolio and improve its software. Here's why that might work.
If we look back to the 2012- and 2013-era Samsung, we see a different company than the one we know today. Samsung blitzed the smartphone market with dozens of models, ranging from miniscule to ginormous. The company made devices with screen sizes ranging from 2.8 inches to 6+ inches. These smartphones covered every price point imaginable. They all ran Android with Samsung's TouchWiz UI on board. TouchWiz has always been a rather heavy user interface skin, but at least it was manageable back then.
These devices sold like gangbusters.
Starting with the Galaxy S4, Note 3, and later the S5, Samsung began to change. The company reduced the number of phones in its lineup. It gave up on the entry-level market almost entirely, and chose instead to focus on flagship devices.
Chinese makers pounced at the opportunity and essentially gobbled up Samsung's share of the cheap phone market, especially outside North America. Not only did Samsung concentrate on the high end of the market -- chasing the Apple iPhone -- it also went crazy with software and services. The S5, Note 4, S6, and Note 5, for example, shipped with ever more advanced (and overbearing) software on board.
Consumers' response to these changes has played out over the last 18 months. Sales of Samsung's flagship handsets have sagged. The company may still sell more phones than any others have, but its profits have dropped along with overall shipment volume. Samsung recognized late last year that it needed to mix things up, and it changed leadership in its mobile device business.
Fast forward to today, when Samsung tells us it plans to offer a differentiated mobile portfolio.
"In the premium smartphone segment Samsung aims to reinforce its market leadership and drive growth with differentiated and innovative products," said the company. "For the mass market segment, the company will focus on increasing shipments and profitability through competitive product line-ups."
In other words, Samsung is going to bring back a greater number of mid-range and entry-level phones so it has a broader range to offer consumers' varying needs.
[Is it the end of an era? Read: Is the iPhone Finally Losing Its Mojo?]
Samsung says it plans to fix its apps and services, too. "The company will focus on strengthening the competitiveness of its software," it said in its earnings announcement Thursday.
The Galaxy S7 is on deck for its debut next month. This year's flagship handset will resemble last year's perhaps more than Samsung's new mobile chief would like, but he came on too late to make significant changes to the hardware. It's possible that Samsung will institute a level of changes to the software before the phone hits store shelves.
The company did note that it plans to expand its Galaxy A lineup, which is its mid-range series. Samsung will have to look at boosting the number of devices in its Galaxy J roster as well, if it wants to win over budget phone buyers once more.
A broader range of devices with better software sounds like exactly what Samsung needs in order to regain the sales success it saw several years ago.
Does your company offer the most rewarding place to work in IT? Do you know of an organization that stands out from the pack when it comes to how IT workers are treated? Make your voice heard. Submit your entry now for InformationWeek's People's Choice Award. Full details and a submission form can be found here.