It began with a dot matrix printer. Matt Schlabig, CIO of Worthington Industries, a global metal manufacturing company based in Columbus, Ohio, was walking through one of the company's steel facilities.
"I happened to go by the shipping office where I noticed a really, really old dot-matrix printer printing three-part paper," Schlabig explained in a phone interview. "I watched the printing and tearing of the paper. These truckers had to sign each page. The bill of lading was multiple pages. It took forever. The shipping guys, all they want to do is get those truckers in and out as quickly as possible."
Loading a truck with steel takes time. But in this case, handling the paperwork took longer. "It was getting the required material that the trucker and the shipper both had to sign saying, 'Yes, in fact I put this on your truck,' and 'Yes, in fact it is on my truck,'" said Schlabig.
[Which technologies will matter most to IT this year? Read Hot Tech Trends to Watch in 2016.]
When Schlabig asked whether the shipping office would like to be able to sign the necessary documents electronically, the answer was, "Absolutely."
From that observation, Worthington Industries' Bill of Lading eSignature app was born. For its work on that app, as well as its Mobile Inventory Scanning and Tracking (MIST) app, the company earned the 2016 InformationWeek Elite 100 Award for Best Use Of Mobile.
Worthington Industries, which employs about 11,000 people across 11 countries, says it values the Golden Rule, employees, stability, and innovation. But there's tension between stability and innovation -- and it falls to the IT team to resolve that tension.
Rather than seeking approval to make the Bill of Lading eSignature app with a traditional funding request that would travel up the corporate ladder, the IT team worked directly with the shipping department to develop a rapid prototype.
No one wants to wait for months.
"Worthington Industries is very traditional," said Schlabig. "It's really built on family values and a philosophy of low corporate overhead. In manufacturing, there's not a lot of spend in technology anyhow. So we did have to build up the demand from the shipping guys, versus going through the normal channels of submitting a request and having it vetted and approved. We were afraid it would go there and die, to be quite honest."
It took the IT team four weeks to develop a prototype. "No one wants to wait for months [while an app is developed]," said Dan Pachko, enterprise architect and mobile manager for Worthington Industries, who described the app as "a grassroots effort."
Rather than going through the traditional IT demand management cycle, the IT team worked directly with the shipping department to create a compelling app, which took about four weeks to produce.
The eSignature project, which began in April 2014, and was rolled out to various sites by July, ultimately involved business stakeholders, including operations managers, traffic managers, shop floor personnel, transportation personnel, and IT representatives from the company's mobile, architecture, infrastructure, end-user computing, integration, and ERP groups.
The MIST app, which was started in September 2014, pilot-tested in October, and widely deployed by January 2015, evolved from a need to locate coils of steel, some as big as 6 feet in diameter, and at least as tall, amidst a sea of similar coils. Worthington considered RFID tags, but found the technology did not perform well in a metal-rich environment, and was costly too. Instead, it deployed wireless ergonomic scanners, similar to a Nintendo Wii remote, to scan tags on the coils and post updates to the company's ERP system. The updates are posted in real-time when possible, or as saved batch uploads when connectivity is absent.
Making Business Processes More Agile
The two apps were developed quickly, using the Agile development methodology. They have ended up helping Worthington Industries make its business processes more agile. Other apps have followed since then, because mobility is proving to have real value for the company.
Pachko says taking advantage of mobile technology requires a mindset shift. "If you want to go into mobile, you can't just slap a mobile UI on something and call it mobile," he said. "You may have to change business processes a bit to make it work."
Developers of sophisticated or ambitious commercial mobile apps generally try to create native apps in order to take advantage of the latest mobile OS platform features and to have access to native debugging tools. There are plenty of consumer-oriented mobile apps developed with cross-platform tools as well, but these tend not to push technical boundaries.
In the enterprise world, where developers worry more about app longevity, maintainability, and flexibility than about the ability to utilize the latest mobile platform APIs, cross-platform development tools may present a compelling value proposition.
The eSignature app and the MIST app were created with Appcelerator's Titanium framework, which allows developers to write apps in JavaScript and to deploy them to Android, iOS, and Windows. For many organizations, that's more appealing than writing three versions of the same app, one in Java, one in Objective-C or Swift, and one in C# or Visual Basic.
"We looked at other frameworks," said Pachko. "We looked at native development. It allowed us to put apps together a lot quicker using JavaScript. You look at a lot of the skillsets today coming out of college and JavaScript is always right up there."
Supporting the apps involved Web services delivered through Oracle BPEL Process Manager, Bottomline Optio ERP, Oracle E-Business Suite, Hyland OnBase, Intermec scanners, and AirWatch.
Pachko says the biggest challenge was to innovate without "sinking the IT ship." Toward that end, he said, the most successful aspect of these mobile projects was the way in which the business stakeholders and IT worked together.
Collaborative Effort
As Schlabig describes his organization's process, that often meant working together in the same room. When building analytics dashboards, for example, Worthington's financial team sat down with the development team to ensure that the end product was what its end-users would want. "We had them all in the room in the same time," said Schlabig. "That cut out all the emails, cut out all the misunderstandings."
The success of its mobile apps is leading Worthington Industries toward further mobile innovation. Other business units like Worthington Cylinders are looking at the eSignature app. Pachko says the company is considering alternate form factors for mobile devices, such as smart glasses, because many workers have to wear safety glasses anyway. The company is also looking into wearables such as safety vests, because they can protect workers from injury by watching for physical activity that isn't ergonomically correct.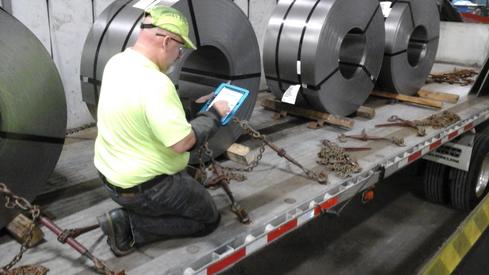 The eSignature and MIST apps have shaved several minutes per load off the time required to process shipments. They've reduced the time necessary to store and retrieve bills of lading. They've eliminated the need to store paper in boxes. They've reduced coil staging and truck loading times. They've provided better visibility and management of inventory. They've also put more money in the pockets of employees through profit sharing.
There have been unanticipated benefits, too. Worthington's approach to business, says Pachko, has been to try to treat everyone well: employees, partners, and customers. These mobile apps have helped with that. "We found that the trucking guys, their satisfaction grew because we got them in and out quicker," he said, recounting a time when he overhead a trucker praising the tablets the company was using because they made the pickup and delivery process faster.
Trucking companies, Pachko said, "can go and choose where they want to put their truck drivers, and if Worthington is high on that list, that's beneficial to us."
What goes around, comes around. That's more or less the Golden Rule. It also looks like good business.