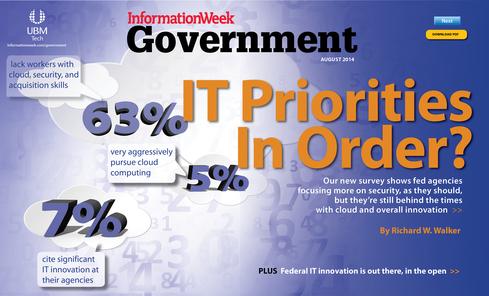 Get the August issue of InformationWeek Government
By opening access to data and software code, government agencies unlock opportunities for innovation from the outside, even when they aren't feeling the innovation on the inside.
Participants in this year's InformationWeek Federal IT Priorities Survey seem less confident than last year's sample about the IT innovation momentum within government -- only 7% cited a "significant" level of innovation at their agencies this year, compared with 14% last year. Our survey findings are explained in more detail in our feature on the survey. I cite them here only to draw a contrast with the significant innovation that's taking place within government agencies, despite that pessimism.
Journalists and government watchdogs trying to pry sensitive data out of the government may well chortle at the Obama administration's claim to be more transparent than its predecessors. However, one thing that has changed for the better is programs for easier access to certain categories of government data. These efforts range from simple CSV data file downloads to more sophisticated APIs for querying government databases.
[Are federal CIOs nothing more than obstacles? Read 3 Reasons We Don't Need Federal CIOs.]
One early hotbed of open data activity was the US Department of Health and Human Services, where Athenahealth co-founder Todd Park played an "entrepreneur in residence" role as chief technology officer. That's a role he now projects more widely as CTO at the White House. HHS remains particularly active in this area, having recently released detailed data on how healthcare providers are spending your Medicare and Medicaid money. The Obama administration also gave us Recovery.gov for tracking the spending of stimulus dollars, as well as Data.gov to reveal the data released from all parts of the government.
"We can't possibly recognize all the potential uses for this data," says Damon Davis, director for the Health Data Initiative at HHS. "Companies just come out of the woodwork who have utilized this open data made available by the government."
I'm quoting Davis from an appearance he made at the recent Federal Big Data Summit, the source for many of the insights I'm relating here. The release of great quantities of healthcare data is creating entrepreneurial opportunities in much the same way that routine releases of government weather data gave rise to companies such as the Weather Channel and AccuWeather, which have enhanced and repackaged the data, making it more useful to consumers and the industry.
In parallel with the availability of data has come greater availability of government-generated software code. There's a long history of government software becoming public information, which is how it's treated under the law if it was created by government employees. That's how the Department of Veterans Affairs' VistA electronic medical records system became open source.
What we're seeing now is a fuller embrace of the open-source ethos as more organizations make code available through public GitHub repositories (which can also be a way of distributing data and inviting discussion on policy documents). There's a difference between prying information out of the government with a Freedom of Information Act request and the government proactively releasing it.
Some of the most prominent examples of open-source activity come from groups already working in the business of openness. The operators of Data.gov not only use open-source content management software, but they also provide their own plug-ins and modifications as open source.
In the meantime, more radical things are happening. In April, the National Geospatial-Intelligence Agency (NGA) made some noise about joining GitHub and encouraging developers to modify, distribute, and perform work on the code it has published there "either to improve NGA's product, or for their own use."
An open-source NSA?
Despite its reputation for extreme secrecy, the National Security Agency also has made significant open-source contributions by publishing its Accumulo big data analytics product through the Apache Software Foundation. Some of the NGA's contributions elaborate on that work. In addition, the NGA has created an agency-level GitHub account that assembles its projects and makes them easy to access from the agency site's home page.
"This might be old hat by now for other organizations, but not for an intelligence agency," says Chris Rasmussen, the NGA's lead for open source development. To make this happen, it has had to negotiate with the contractors and vendors participating in its software projects to make sure it can release their contributions -- and, in many cases, to give them recognition in the readme files. It also has had to reassure internal constituents that the agency isn't opening itself up to a Wild West of hackers. Most serious collaborators wind up having their own professional interest in big data analysis that has a geographic or mapping component.
Besides, this is where the action is. "If you want to be part of the big data ecosystem, you've got to be out in the open," Rasmussen says. "If we had gotten one contribution out of it that we didn't have to pay for, it would have been worth it."
In addition to speeding development, there's an idealistic purpose in releasing code: "The taxpayers paid for it, so, when appropriate, it should be given back."
The payback for government will be more innovation than it has the money and resources to generate itself.
InformationWeek's new Must Reads is a compendium of our best recent coverage of the Internet of Things. Find out the way in which an aging workforce will drive progress on the Internet of Things, why the IoT isn't as scary as some folks seem to think, how connected machines will change the supply chain, and more (free registration required).