government services electronically, according to the UN's latest E-Government Survey. The survey assesses how the use of information and communications technology enhances government efficiency, effectiveness, transparency, accountability, and citizen participation in 193 countries.
According to the UN's e-Government Branch Chief, Vincenzo Aquaro, while Europe continues to lead globally in e-government development, recent technology innovations by the GCC governments put them on track to surpass Europe's level of service by 2016.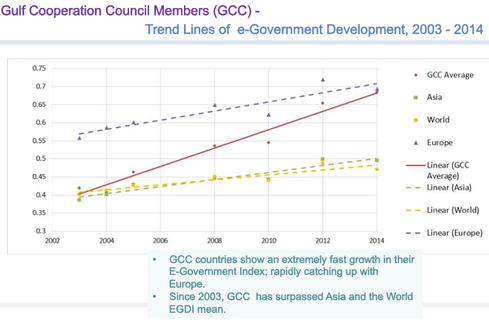 "E-government should be seen as a holistic process to transform government," said Aquaro in a keynote presentation at the forum. He suggested governments must:
Become catalysts for change instead of mere service providers
Become facilitators, engaging and empowering communities to take part in the solution of their own problems
Make full use of opportunities afforded by open data, big data, social media, and mobile
Be results-oriented and customer-driven
Become proactive instead of reactive, i.e., anticipating problems and acting preventively
"We learned two big lessons" in dealing with public data in France, said Lacombe during the forum. "First, think of platforms as pyramids -- government can serve citizens much more effectively by working like networks rather than hierarchies. And second, recognize that citizens are eager to collaborate for the greater good. Listen, help out, and let them innovate."
But officials at the forum also acknowledged that enabling users to find, pull together, and merge open data remains a huge challenge. And that doesn't count the vast amounts of information locked up in documents.
Vassilios Peristeras, program manager of EU policies for the European Commission, said Europe has made progress developing a pan-European Data Catalogue Application Profile (DCAT-AP) to address the question: "How can I find and combine public data from various sources?"
The DCAT-AP provides a common template -- and a base registry -- to describe public sector datasets and data catalogues, he said. Efforts are underway to create a European Linked Open Data platform, designed to help users quickly and comprehensively identify available datasets across Europe's various government data systems.
The Europeans are also developing the Asset Description Metadata Schema (ADMS), a system similar to the National Information Exchange Model in the US, which specifies metadata and semantic standards for describing a person, location, service, or organization. "These specifications are particularly suitable for publishing open data," said Peristeras.
The World Bank, meanwhile, is also stepping in with an Open Government Toolkit to help countries jumpstart their open data efforts, said Anat Lewin, ICT policy specialist at the World Bank. The toolkit is part of a larger Open Data platform, designed to help governments assess their readiness.
Former Data.gov.uk director Andrew Stott noted that the success of open data for government depends, not only on leadership from the top of government and the basics of data management, but also on "incubating an open data ecosystem." He also recommended public and private sector leaders can find additional help at the Open Data Index, which assesses the state of open data around the world.
Trying to meet today's business technology needs with yesterday's IT organizational structure is like driving a Model T at the Indy 500. Time for a reset. Read our Transformative CIOs Organize For Success report today. (Free registration required.)