Windows XP's end-of-service deadline has prompted annoyance and consternation in many quarters, but Microsoft's Internet Explorer team apparently doesn't feel that way. The 12-year-old Windows XP hasn't supported new versions of IE for some time. This week the IE team celebrated the operating system's demise by releasing a browser-based, arcade-style shooter game, called Escape from Windows XP, that lets players blast XP-themed enemies.
Though built for Internet Explorer 11, the game should run in any modern browser. Escape from Windows XP pokes fun at its namesake OS in a number of ways. Before playing, the user must patiently wait as a virtual XP system completes its start-up routine, only to be interrupted by a scrambled "blue screen of death" after reaching the desktop.
[Why are so many people still using Windows XP? Read Windows XP Holdouts: 6 Top Excuses.]
From there, the game presents a fairly amusing account of XP's longevity. Highlights include the OS's Phoenix-like rise "from the ashes of Windows 2000," its refusal to die in the wake of newer technologies, and its ultimate transformation into a "pestilence on the peaceful developer community." Once the prologue finishes, users take control of the hero and set out to rid the world of XP once and for all.
Although the game might ruffle the feathers of XP diehards, Microsoft ostensibly hopes to demonstrate some of the technologies that users of newer systems enjoy. Browser-based gaming wasn't a part of the landscape when Internet Explorer 6 ruled the day, but as Escape from Windows XP attests, modern browsers support a much broader range of capabilities. If XP users are willing step away from IE, other contemporary browsers are available. Google has pledged to support Chrome for XP until 2015, for example.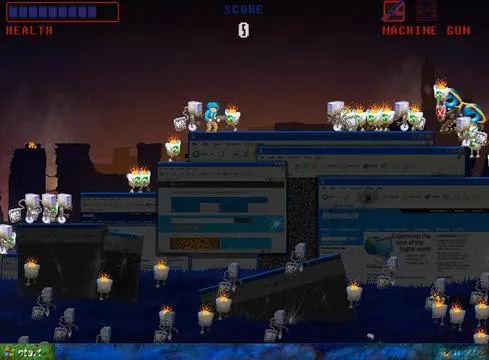 In related news, Windows XP's support termination helped curb falling PC shipments, according to new figures from the research firm Gartner. PC shipments totaled 76.6 million units in the first quarter of 2014. That tally represents a 1.7% decline compared to the same period in 2013 but was better than recent quarters, many of which included double-digit percentage drops.
Though an improvement, the PC declines also attest to the industry's ongoing challenges. In the first quarter of 2013, the PC slump was in full swing. The most recent quarter declined relative to even this weak baseline, showing how far PC sales have fallen since their heyday.
With mobile devices taking over common computing tasks and PC refresh cycles stretching longer than they used to, the industry probably won't bounce back to its former heights. But with Microsoft's XP deadline forcing some customers into action, the first quarter showed that people still need traditional PCs. Gartner noted especially strong demand in Japan, and improvements throughout Europe, the Middle East, and Africa. Commercial shipments were also up in the US, where Gartner said the impact of tablets has faded.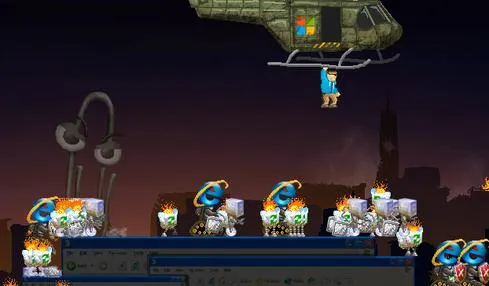 It remains to be seen if "Escape from Windows XP" motivates any holdouts who aren't among the new PC buyers implied by Gartner's numbers. It's also unclear if XP's much-discussed security vulnerabilities actually cause widespread problems. But on the security front, a Microsoft rep said this week that at least one alleged vulnerability has been overhyped: ATM machines.
In an interview, director of communications Tom Murphy said Microsoft has been working with banks for years to ensure ATMs remain safe, and that XP's retirement isn't grounds for changing one's banking habits. He'll continue to use ATMs, he said.
He confirmed that although some ATMs run the still-supported Windows Embedded SP3, others run Windows XP Pro Embedded, which lost support this week alongside the mainstream XP versions. Murphy said not all banks and ATM operators have updated their machines, but that those still using XP are paying for additional Microsoft support or taking other proactive steps. "With banks, trust and security is front and center. ATMs are something they put a lot of thought and investment into," he said.
Emerging standards for hybrid clouds and converged datacenters promise to break vendors' proprietary hold. Also in the Lose The Lock-In issue of InformationWeek: The future datacenter will come in a neat package (free registration required).