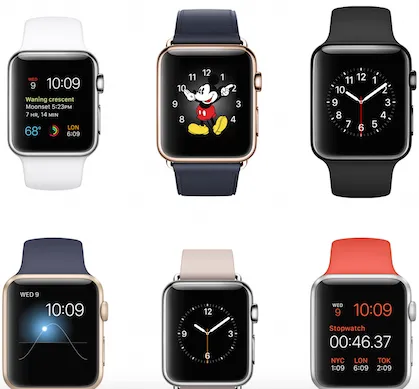 10 Hot Smartwatches, Fitness Trackers For Your Holiday Gift List
(Click image for larger view and slideshow.)
Microsoft, like most of us, is spending December balancing productivity and holiday cheer. In an ad released this week, employees from its NYC flagship store took a stroll up Fifth Ave. to sing carols in front of the neighboring Apple flagship.
When it wasn't spreading merriment in Manhattan, Microsoft was churning out updates on Dynamics CRM, Windows 10 IoT, and a new initiative called PowerApps. We also heard whispers of a Surface Phone predicted to debut in 2016.
PowerApps is a service designed to bridge an "innovation gap" in creating easy-to-use business apps that connect with traditional enterprise apps. IT developers and business customers can use the tool to build apps without knowing how to code.
Bill Staples, Microsoft's corporate vice president of Application Platform, explained how PowerApps was created to fix three problems that have caused the innovation gap. These include a lack of skilled mobile developers, difficulty in connecting and consuming a larger amount of business data, and problems with IT agility and app sharing.
[Sleeping on the job? These apps and tools will help you stay focused.]
Speaking of enterprise software, this week marked the global release of Dynamics CRM 2016. The newest iteration of its customer relationship management software is designed to deliver greater personalization, offline mobile capabilities, and improved productivity.
Microsoft first announced Dynamics CRM 2016 in September and followed up with a November update on how it will influence customer service. New capabilities include more advanced analytics and Azure Machine Learning to determine patterns in customer habits and make predictions.
HoloLens became a hot topic in this week's news cycle when Microsoft announced a new contest to discover its next big HoloLens app idea. Participants have until Jan. 11, 2016 to submit their ideas for HoloLens apps, after which Microsoft will narrow down the finalists and put its top three ideas to a vote on Twitter.
Additional HoloLens updates include a partnership with Autodesk Fusion 360 and firsthand accounts from Microsoft employees who can work with the headset from home. Microsoft also reportedly laid off 60 employees from its Israeli HoloLens team as it brings development back to the US, confirmed TechCrunch.
On the mobile front, new reports indicate we may see a Surface Phone in place of the next Lumia smartphone. The rumored device, which would be created by Panos Panay and the team behind Surface Pro 4 and Surface book, would debut near the end of 2016.
While there are few details about Surface Phone at present, the smartphone has potential -- both new Surface devices are impressive pieces of hardware. After the Lumia 950 and 950 XL took a backseat to the Surface lineup at Microsoft's October hardware launch, it would be interesting to see a smartphone from Panay's team.
This year has not been kind to Microsoft's mobile business, which has been rocked by reorganizations and layoffs, and 2016 doesn't look much better. In a new report, IDC predicts Windows Phone shipments will suffer a year-over-year drop of -10.2% in 2015 with further decline next year.
Can anything save Windows Phone? Ask Steve Ballmer, Microsoft's former CEO and largest individual shareholder, who shared his thoughts during this week's annual shareholder's meeting.
Ballmer said the current Universal Apps strategy "won't work" and Microsoft should instead enable Android Apps to run on Windows 10, in a report from Bloomberg Business. He also stated Microsoft should share profit margins and sales for cloud and hardware businesses. The company currently reports cloud earnings as an annualized run rate.
While there is no sign Windows Phone is poised to succeed under current CEO Satya Nadella, it's ironic Ballmer should suggest how the company should further its mobile strategy. It was during his term as CEO that Microsoft acquired Nokia and lost major ground against mobile giants Apple and Google.
This week also brought an update to Outlook, which has a new feature called FindTime. The add-in is intended to help employees agree on a meeting time by asking individuals which days and times work best. When everyone votes, FindTime sends a meeting invite to organize the event.
Finally, Microsoft has released the Windows 10 IoT Core to manufacturers.
The IoT Core offers a foundation for creating smaller, less expensive industry devices. In addition to the IoT Core SKU that delivers automatic software updates, Microsoft is also introducting Windows 10 IoT Core Pro, which lets OEMs control update distribution through Windows Server Update Services.
**New deadline of Dec. 18, 2015** Be a part of the prestigious InformationWeek Elite 100! Time is running out to submit your company's application by Dec. 18, 2015. Go to our 2016 registration page: InformationWeek's Elite 100 list for 2016.