Microsoft did not disappoint at its Windows 10 hardware launch, held October 6 in New York City.
Windows 10 has proven popular in the 10 weeks it has been available as a free upgrade for Windows 7, Windows 8, and Windows 8.1 users. The new OS has been downloaded on more than 110 million devices, says Microsoft executive vice president of the Windows and Devices Group Terry Myerson. More than 8 million of those are business PCs.
The event kicked off with a HoloLens demo of mixed-reality gaming experience Project X-Ray. Developers will be happy to learn Microsoft is making a developer kit available in Q1 2016 for a cool $3,000.
[Microsoft, Baidu deal drives Windows 10 adoption in China.]
Lumia 950 Lineup
Microsoft vice president for Surface Computing Panos Panay took the stage to highlight the two devices that generated the greatest pre-event buzz: Lumia and Surface.
Two new additions to the Lumia family were officially introduced as the Lumia 950 and Lumia 950 XL. The smaller Lumia 950 measures 5.2 inches and has a hexa-core processor; its larger counterpart, the 950 XL, has a 5.7-inch display and an octa-core processor.
Both smartphones have OLED screens, liquid cooling, USB-C ports, and glance screen technology, which provides data like text messages and email alerts when you glance at the screen without using battery life. Other features include a 20MP camera with dedicated camera button and 4K video, and 32GB of storage.
We also saw a demo of Continuum, a Windows 10 feature that lets users turn their smartphone into a PC with the Microsoft display dock, monitor, keyboard, and mouse. Universal apps scale to accommodate the larger screen size, which can be used to run programs like Word and PowerPoint on the monitor while the smartphone retains its full functionality.
Prices start at $549 for the Lumia 950 and go up to $649 for the Lumia 950 XL. Both devices will be available in November.
Surface Pro 4
Another highlight of today's event was the Surface Pro 4. Microsoft cut back on the bezels to increase its display to 12.3 inches, with 5 million pixels, while maintaining the original device footprint. It's thinner as well, with a frame measuring 8.4mm.
The Surface Pro 4 packs 16GB RAM, can handle up to 1TB storage, and runs 30% faster than its predecessor and 50% faster than the Macbook Air. Additional features include support for Windows Hello, fingerprint reader, and 0.4mm Gorilla Glass cover. A new type cover has a backlit keyboard and 40% larger trackpad.
Microsoft also updated the Surface Pen to deliver a smoother writing experience. The new pen comes in an expanded five colors with interchangeable tips for writing with a pencil, ballpoint pen, etc. It has 1,024 levels of pressure sensitivity and the ability to summon Cortana, through which you can search via the Edge browser and mark up webpages.
It also has a tail eraser. "We finally put an eraser on it!" exclaimed Panay. "Isn't that funny, there's a pencil out there without an eraser," he joked in a not-so-subtle dig at Apple.
The Surface Pen promises yearlong battery life and accompanies the Surface Pro 4. You can preorder the new Surface starting Oct. 7. It will be available for $899 starting Oct. 26.
It's probably no coincidence this date coincides with the opening of Microsoft's New York City flagship store.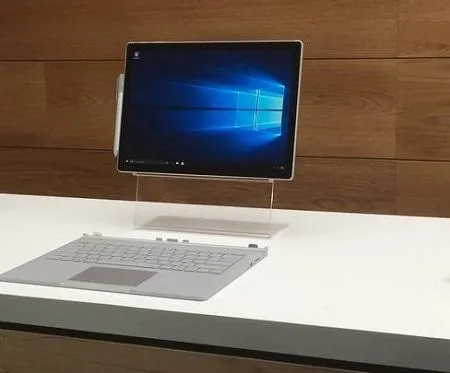 Surface Book
The star of Microsoft's show, its new Surface Book laptop, came as a surprise.
"We made the ultimate laptop," said Panay, holding up the sleek device.
Microsoft's Surface Book is a 13.5" convertible laptop with a newly designed snakelike hinge connecting the keyboard to the display. Its 13.5-inch screen has 6 million pixels, 267 PPI and supports both Surface Pen and touch input.
With the press of a button, the display disconnects and can be used as a fully functional Surface tablet. The keyboard is on the heavy side, but the tablet is extremely lightweight.
The specs for the Surface Book are similar to those of the Surface Pro 4. It packs a quad-core Skylake processor, 16GB RAM, and up to 1GB storage. Its keyboard also has an Nvidia GeForce GPU. The Surface Book promises 12 hours of battery life and twice the power of Apple's MacBook Pro.
The price of the Surface Book starts at $1,499. It can be preordered starting Oct. 7 and will be available Oct. 26.
Microsoft Band
As rumors suggested, the Band has been updated with a curved, scratch-resistant Gorilla Glass display that is reportedly more responsive to touch. It builds upon the capabilities of its predecessor and contains a GPS, guided workouts and the ability to monitor sleep, count steps, track caloric burn, and send smart notifications.
Microsoft Band is now integrated with Cortana, which provides workout reminders and calorie burning updates. It also has a barometer for tracking elevation. The Microsoft Health app provides "constant and immediate access" to usable health data, explained Microsoft's Lindsey Matese, and users can view data including a continuous heart rate monitor and a breakdown of caloric burn in carbs vs. fats.
The Band can be preordered starting later Oct. 6 and will be available on Oct. 30 for $249.