With the Windows 10 Technical Preview, Microsoft has so far focused on the OS's desktop user interface and enterprise-oriented features. That will change next month. Microsoft on Thursday sent invitations to reporters and analysts for a day-long event on January 21 at its Redmond, Wash., headquarters. Windows 10's consumer experience will be revealed at the event, company reps have confirmed.
Microsoft reps haven't said which specific aspects of the consumer interface will be discussed. Observers widely expect the company to debut a version of the OS for smartphones and tablets that merges Windows Phone and Windows RT and will run on both Intel and ARM-based devices.
Microsoft will livestream the keynote portion of the event. Microsoft CEO Satya Nadella is expected to speak, as are Terry Myerson and Joe Belfiore, the two corporate VPs who run the company's OS group.
[Looking for the perfect tablet this holiday season? Read Tablet Shopping: 7 Tips To Avoid Buyer's Remorse.]
The mobile version of Windows 10 anticipated in January will feature a tiled, touch-oriented interface but no desktop, according to a ZDnet report that cited unnamed Microsoft insiders. Windows RT devices include a watered-down desktop UI to run Office apps, but by late next year, Microsoft is expected to release a touch-first, Modern-style version of Office. Critics have blamed mediocre Windows 8 and 8.1 adoption partly on the OS's weak selection of touch apps, which means that with mobile editions of Windows 10, Microsoft will have to show that it's not only polished the divisive Live Tile UI, but also that more productive Modern apps are on the way.
Microsoft officials have broadly promised that Windows 10 will advance the company's "universal apps" concept, pitched as a way for developers to use one code base to write apps for different device types, and as a way for consumers to have consistent app experiences that translate from the Xbox to mobile devices to PCs. Execs have also foreshadowed changes to Windows licensing, implying that a core version of Win 10 with mainstream functionality might be free, with enterprise tools and other advanced features optionally activated via subscription services. Both topics are likely to come up, though not necessarily to be resolved, during January's event.
Though next month's event will likely include an in-depth look at Windows 10 for smartphones and tablets, it's unclear when the mobile version of the OS will be released as a public preview. Microsoft announced the desktop-oriented Windows 10 Technical Preview in late September, emphasizing a new Start menu, support for virtual desktops, and other navigational tweaks aimed at mouse-and-keyboard users with non-touch PCs. Microsoft has said with the release of subsequent Preview builds that user feedback is driving the development process. Last month, it confirmed that the most recent Preview release, Build 9879, will be the last update of 2014, aside from bug fixes.
Microsoft's next Preview build for desktops will reportedly arrive in January, likely with Cortana, the virtual assistant that first appeared in Windows Phone 8.1. The next build is also expected to include Continuum, a feature for two-in-one devices such as Microsoft's Surface Pro line. Continuum detects whether a detachable keyboard is connected and helps users more seamlessly switch between laptop and tablet modes. Rumors claim Microsoft will release a Windows 10 preview for developers in May, after the company's Build conference in San Francisco.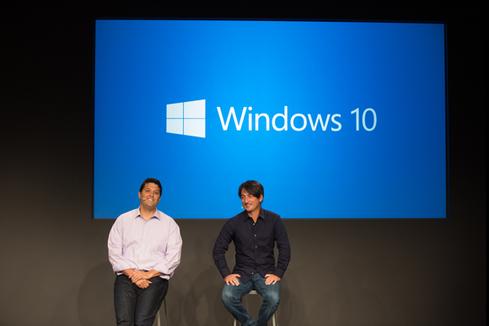 With Windows 10, Microsoft hopes to erase ill-will caused by Windows 8's controversial departures from earlier versions. Only around 20% of Windows users run Windows 8 or 8.1, well under half the number of users who run Windows 7. To many desktop users, Windows 8 and 8.1 are too touch-oriented and too different from past versions. For mobile users, the OSes offer neither the app selection nor polished user experience for which Apple and some Android manufacturers are known. Windows 8.1 adoption has recently begun to accelerate, but with sub-$200 Win 8.1 devices flooding the market and Win 7 options becoming harder to find, it's unclear whether buyers are more comfortable with Live Tiles or merely reacting to changing market dynamics.
As Microsoft's revenue streams evolve to rely less on Windows licensing and more on the apps and service subscriptions that Windows customers purchase, the company will need more of its users to adopt the most current release. Is Microsoft on the right track with Windows 10? Let us know what you think in the comments.
Apply now for the 2015 InformationWeek Elite 100, which recognizes the most innovative users of technology to advance a company's business goals. Winners will be recognized at the InformationWeek Conference, April 27-28, 2015, at the Mandalay Bay in Las Vegas. Application period ends Jan. 16, 2015.