set of code. The new version of Visual Studio automatically adjusts the interface, producing a workable version for each platform. If developers choose, they can tune segments of the code to further tailor a given version of their app to a particular device. One upshot is that, whereas developers must still build separate apps for iOS and Mac OS X, they can develop for Windows and Windows Phone via a single pipeline.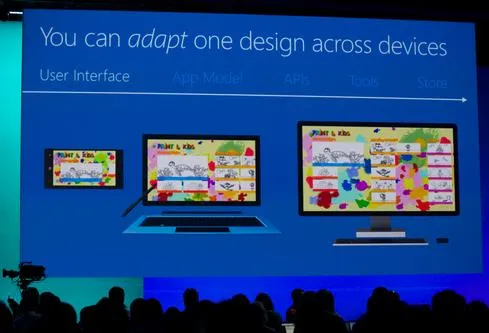 "I think it's enough to quiet the rebellion amongst the diehard Microsoft devs," Forrester analyst Jeffrey Hammond said in an interview. "We've been getting into a situation where they are not able to defend developing for multiple Microsoft platforms."
But Microsoft also emphasized that its tools can help with cross-platform development, especially for the web. Since Nadella took the reins, Microsoft has stressed that it wants its technology everywhere, not just inside the walled garden of the Windows ecosystem. If that means developers use Visual Studio to target iOS, Android, and Windows Phone concurrently, Microsoft is happy to oblige.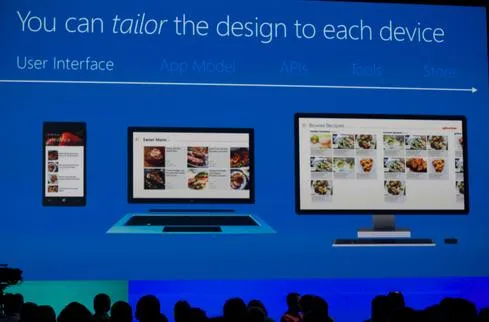 The company also demonstrated a way to "broker" legacy apps into newer versions. A company can take an aging business app built for old desktops, re-appropriate portions of the code, and feed them through Microsoft's tools to produce a new Modern-style app. The company positioned this tactic as a way for IT to embrace new approaches, such as touch, while continuing to collect on previous investments.
7. Windows is pursuing new UI inputs.
Windows came to prominence with mice and keyboards, and Microsoft has been trying for more than a year to popularize touch. But at Build, Microsoft execs also emphasized Kinect-based gesture controls, even going so far as to call them "the future." Natural language technologies, which were on display in Cortana, represent another of Microsoft's obvious interests. During a brief preview of touch-first Office apps for the Modern UI, Microsoft reps also discussed the potential for high-precision styluses and similar accessories.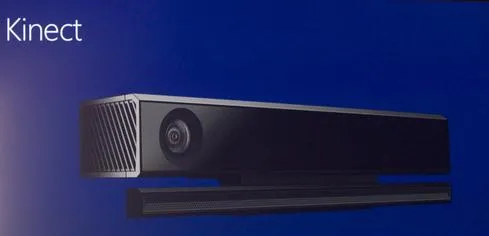 8. Windows will run on devices at all price points.
Microsoft officials pointed out that, whereas some digital assistants are available only on high-end devices (read: Apple's Siri), Cortana will be available across the spectrum once Windows Phone 8.1 launches this spring. They also pointed out that all current Windows Phone 8 devices should run the new OS (a jab at cheap Android models that run old versions of the OS). The point? With most device growth in emerging markets, Microsoft senses an opportunity to deliver a premium experience to budget-minded demographics. This tactic includes not only smartphones, but other devices, as well; McCabe said the Windows 8.1 update reduces the OS's footprint, which should enable it to run on less powerful, less expensive hardware.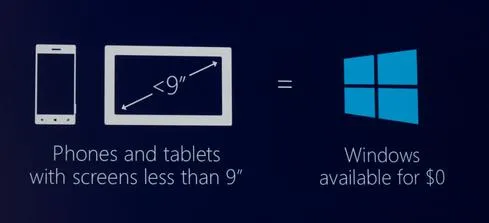 Microsoft is changing its licensing system to accommodate the new strategies. It will no longer charge for Windows licenses on devices with screens smaller than nine inches, and when the Internet of Things version is ready, it will be free, as well.
Mobile, cloud, and BYOD blur the lines between work and home, forcing IT to envision a new identity and access management strategy. Also in the Future Of Identity issue of InformationWeek: Threats to smart grids are far worse than generally believed, but tools and resources are available to protect them (free registration required).