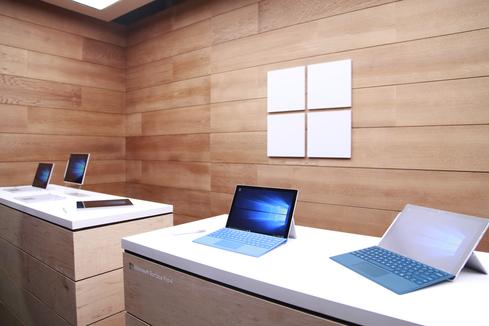 Surface Pro 4, Surface Book, Lumia 950: Microsoft's New Hardware Push
(Click image for larger view and slideshow.)
Most of this week's Microsoft news came not from Redmond but from New York City, where the tech giant unveiled its Surface Pro 4, Lumia 950, Lumia 950 XL, updated Microsoft Band, and Surface Book laptop.
The purpose of the event was to showcase new hardware optimized for the Windows 10 operating system. More than 110 million PCs have upgraded to the new OS since its launch, said Windows leader Terry Myerson, and 8 million of those are business devices.
Microsoft's Oct. 6 event generated a lot of hype, and the results did not disappoint.
Officials kicked things off with a brief demonstration of gaming on HoloLens. A developer edition of HoloLens will be available in the first quarter of 2016 for $3,000. The company is already accepting applications for the augmented reality headset.
[Up close with Microsoft's new Surface Book.]
Up next was the Microsoft Band. The fitness wearable has been upgraded with a sleeker, less awkward design and a curved, scratch-resistant Gorilla Glass display.
Like the original Band, the new Band will monitor quality of sleep, calories burned, and steps taken. It will also provide smart notifications. Unlike its predecessor, it will monitor oxygen consumption and altitude, and it's also integrated with Cortana.
We officially learned the specs behind Microsoft's Lumia 950 and Lumia 950 XL smartphones, which the company accidentally leaked on its online store the week before the event. The Lumia 950 measures 5.2 inches; its larger counterpart is 5.7 inches.
Size aside, the two smartphones are similar. Both have OLED screens, liquid cooling, Windows Hello support, USB-C connectors, 3GB RAM, 32GB internal storage, and microSD card slots to handle up to 2TB storage. Both also support Continuum, through which users can turn their smartphone into a Windows PC by connecting to a monitor.
The new Lumia hardware can certainly hold its own against competitor Apple and Android devices, but Microsoft's distribution strategy could cause both to fail. AT&T will carry the smaller Lumia 950. Both models will be sold unlocked on the Microsoft store, but the company has not confirmed additional US carrier support.
Microsoft's Surface Pro 4 was updated for Windows 10 with a larger 12.3-inch display that's covered by 0.4mm Gorilla Glass. The Pro 4 is thinner than the Surface Pro 3 but not larger. Microsoft reduced the bezels to maximize display size.
The screen promises a better writing experience with an updated Surface Pen. Microsoft's digital writing tool comes with the Pro 4 and promises yearlong battery life. The stylus offers 1,024 levels of pressure, and comes with an eraser on the other end. An updated Type Cover has a 40% larger precision glass trackpad.
Surface Pro 4 packs up to 1TB storage and 16GB RAM. Device leader Panos Panay claims the device runs 30% faster than the Surface Pro 3 and 50% faster than the MacBook Air.
Its specs are similar to those of the Surface Book laptop, which brought a surprise close to Microsoft's show. Surface Book has a 13.5-inch display with 6 million pixels, runs on a sixth-generation Intel Core processor, and detaches at the hinge to become a lightweight Surface tablet.
"This is now the thinnest, most powerful PC ever created," said Panay of the Book, which can be ordered with a discrete Nvidia GPU in its keyboard base. It promises 12 hours of battery life.
In news unrelated to hardware, Microsoft also announced this week that Sway is now integrated with OneDrive for Business. An update to Sway has also been released for iPhone and iPad users, delivering more navigation options, faster previews, and fixes to the "image insert" feature.