Microsoft is demonstrating its growing focus on personalization as the launch of Windows 10 slowly rolls closer. New updates indicate that it plans to try biometric authentication in hopes of bringing more convenience and security to compatible devices.
At its Redmond press event on Jan. 21, officials described the new OS as "the first step to an era of more personal computing." The goal is to go beyond standalone mobile devices and create features that let content make the transition from one device to another.
The latest upgrade designed to improve the mobile user experience is Windows Hello, a biometric authentication system that provides instant identity verification to devices running Windows 10. Windows Hello has system support that allows users to unlock a device by scanning their face, iris, or fingerprint rather than typing a password.
In a March 17 blog post on the announcement, Microsoft's Joe Belfiore writes that the Windows Hello system authenticates applications, certain online experiences, and enterprise content without the necessity of stowing a password. The technology is safer and more convenient than traditional passwords, he claims.
[Microsoft Office Delve Learns From You]
While passwords are the primary means to secure personal data today, they're not as safe as most people like to think, Belfiore writes. Tight device security requires users to implement dozens of passwords, many of which people keep simple for memorization purposes. Simple passwords are vulnerable to hacks.
The system requires specialized hardware, such as a fingerprint reader, an illuminated IR sensor, or another biometric sensor to function. Belfiore said there are "plenty of exciting new Windows 10 devices" which will support Windows Hello that already have fingerprint scanners.
How does it work? A combination of hardware and software, including infrared cameras, verify that the user is providing an accurate identity, and not a picture of someone else. Microsoft promises the system contains enterprise-grade security that can be safely used within government, finance, healthcare, and other sensitive businesses.
Microsoft is collaborating with hardware partners to launch Windows Hello-compatible devices to roll out with Windows 10. All OEM systems that feature the Intel RealSense 3D camera will support facial and iris authentication.
In an additional effort to reduce the need for password authentication, Microsoft is bringing a feature called "Passport" to Windows 10. It's a programming system that promises more secure sign-in for IT managers, software developers, and website authors. The system will authenticate users on networks, apps, and websites without storing a password that is potentially vulnerable to hackers.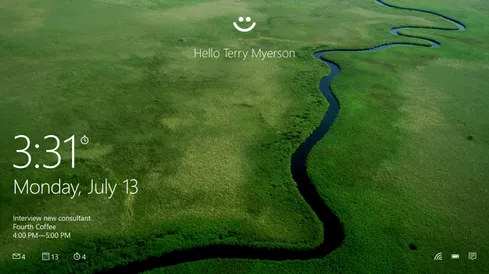 Before authenticating on behalf of a Windows 10 user, Passport will verify the correct owner has possession of a device with a PIN, using Windows Hello on compatible products. Once the user is authenticated, he or she has access to a range of services and websites such as business networks, financial institutions, email, and social networks.
Windows 10 will also provide security and identity protection for enterprises so that they can offer employees new devices that run Windows 10 with the hardware to support Windows Hello. This will enable greater security and password-free authentication for business applications.
Belfiore notes the importance of protecting biometric data and writes that both Windows Hello and Passport are opt-in services. Biometric information is stored locally on Windows 10 devices and is only used to unlock the device and the Passport feature. It isn't used to authenticate users over a network.
Attend Interop Las Vegas, the leading independent technology conference and expo series designed to inspire, inform, and connect the world's IT community. In 2015, look for all new programs, networking opportunities, and classes that will help you set your organization's IT action plan. It happens April 27 to May 1. Register with Discount Code MPOIWK for $200 off Total Access & Conference Passes.